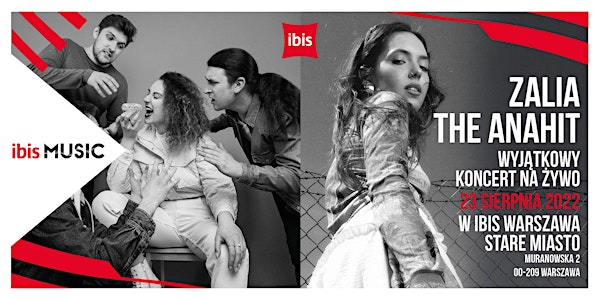 IBIS MUSIC: The Anahit & Zalia @ ibis Warszawa Stare Miasto
Festiwalowi artyści pojawią się na scenie ibis MUSIC!
When and where
Location
ibis Warszawa Stare Miasto 2 Muranowska 00-209 Warszawa Poland
About this event
*ENGLISH BELOW
ibis MUSIC powraca! Startujemy w sierpniu i sprawiamy, że serca wszystkich fanów zabiją szybciej. The Anahit przybywa prosto ze sceny ibis x ALL Europe Stage @szigetfestival. Dodatkową dawkę energii na żywo otrzymacie od Zalia, która w tym roku występowała na festiwalach w Polsce – to wydarzenie, którego nie możesz przegapić.
Kochamy muzykę, szczególnie na żywo. Dlatego sprowadzamy wyjątkowych artystów bezpośrednio do Twojego miasta. Mówiąc dokładniej, do hotelu ibis Warszawa Stare Miasto. Lobby na wieczór zamieni się w miejsce koncertowe i zapewni wyjątkowe wrażenia na żywo. Zdobądź bilety dla siebie i swoich znajomych już teraz i przeżyj niezapomniane chwile!
Agenda:
Drzwi otwierają się o 19:00
Występ I: Zalia
Występ II: The Anahit
Zakończenie wydarzenia o 22:00
Uwaga dotycząca tworzenia i publikacji nagrań wizerunkowych i wideo:
Podczas wydarzenia zostaną zrobione zdjęcia i filmy. Materiały fotograficzne i filmowe są wykorzystywane przez Grupę Accor* i spółkę obsługującą hotel eventowy do celów public relations, w szczególności do publikacji w mediach drukowanych (prasa krajowa i międzynarodowa), w biuletynach, we własnym intranecie Accor, w Internecie (np. ibis.com) i/lub używane w mediach społecznościowych (np. Facebook, Instagram, YouTube).
Daj nam znać przy meldowaniu się na wydarzenie, jeśli nie chcesz być fotografowany lub filmowany i nie chcesz, aby nagrania były publikowane.
Ponadto możesz sprzeciwić się publikacji zdjęć i nagrań wideo, na których możesz zostać zidentyfikowany, nawet po zdarzeniu przez e-mail, m.in. B. na adres ACCOR.NE.ECONOMY.BRANDS@accor.com z prośbą o usunięcie tych nagrań.
* Z Grupą Accor, organizatorem, Accor Services Poland.
ibis MUSIC is back! We're kicking off this August with some incredible live music. The Anahit is coming straight from the ibis x ALL Europe Stage @szigetfestival stage, and you'll get an additional dose of live energy from Zalia, who performed at festivals in Poland this year – an event that you can't miss.
We love music, especially live. That is why we bring exceptional artists directly to your city. This time, we're bringing the good vibes to the ibis Warszawa Stare Miasto hotel. The lobby will turn into a concert venue for the evening and provide a unique live music experience. Get FREE tickets for yourself and your friends now and join us for an unforgettable experience!
Schedule:
The doors open at 7:00 PM
Performance I: Zalia
Performance II: The Anahit
End of the event at 22:00
Note on creating and publishing image and video recordings:
Photos and videos will be taken during the event. Photographic and film materials are used by the Accor Group * and the company operating the event hotel for public relations purposes, in particular for publication in printed media (national and international press), in newsletters, on Accor's own intranet, on the Internet (e.g. ibis.com) ) and / or used in social media (e.g. Facebook, Instagram, YouTube).
Please let us know when you check in for an event if you don't want to be photographed or filmed and you don't want the recordings posted.
In addition, you can object to the publication of photos and videos in which you can be identified, even after the event by e-mail, incl. B. to ACCOR.NE.ECONOMY.BRANDS@accor.com with a request to remove these recordings.
* With Accor Group, organizer, Accor Services Poland.