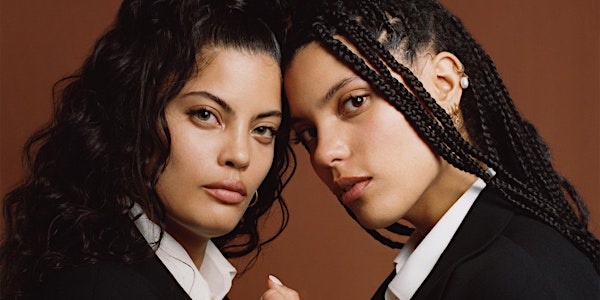 Ibeyi - Spell 31 Tour with Kara Jackson
Doors: 730PM | Show: 830PM
When and where
Date and time
Starts on Sunday, March 19 · 8:30pm CDT.
Location
Thalia Hall 1807 South Allport Street Chicago, IL 60608
Performers
Headliners
More Performers
About this event
Ibeyi: Spell 31, an essay by Janaya Furture Khan
Since their self-titled debut album seven years ago, Ibeyi's stunning parallel harmonies and integral minimalist Latin percussion has shared a message of power and possibility across airwaves around the globe, cutting through an individualist framework that emphasizes self over society and success over soul.
Ibeyi's artistic expression of visuals and sound broke through the cultural zeitgeist to become one of the most original and recognizable sounds of our time. An ever evolving duo, they are unafraid to be in their multitudes, at once daughters, sisters, icons, philosophers, composers, singers, fashion gods, and prophets. It is no surprise then that Spell 31 speaks to us as a prophecy, one we are on the cusp of realizing if only we dared to embrace the magic and step into the supernatural that Ibeyi so easily inhabits.
Their former albums were portals. Ibeyi worked through grief, dismay, family and love with gothic gospel frequencies; it was a confrontation with the personal. Ash, their second album, grappled with the realities of race and gender, it examined the human condition, weaving West African and Yoruban tradition into its message. It grappled with the political. Spell 31 embraces the whole. It is the other side of the portal, an anchor when we feel our most aimless and adrift.
With the world still reeling in the aftermath of a pandemic, another racial reckoning, climate fueled existential dread, and moral decay accelerated by crumbling democratic structures, Ibeyi's Spell 31 is their boldest offering yet, an antidote to apathy in a divided world. Ethereal, crystalized signature Ibeyi harmonies are fused with gospel, persuasive percussion, momentous deeply resonant bass, and electronic neo soul expressions, transporting us into a sublime rawness that is refined by Richard Russell's precise hand and synthesized into astonishing clarity.
Spell 31 casts with conviction, transmuting nihilism into sangoma, binaries into endless dualites, moral austerity into abundance. A subversive and halcyonic manifesto from queens of a sovereign land, Ibeyi occupies the liminal, the space between life and death, past and present, right and wrong, and calls for the interior revelations that create the systemic revolutions we long for. We are invited into a new world where the hewers of wood and drawers of water are sacred, where the divine heals the divided, and growth is worth more than gold. The prophecy is a call to action: it is not yet too late to be the person you always thought you could be. Spell 31 is spirit setting, reminding us that the meaning of life can only be achieved through the magic of living.
About the organizer
Thalia Hall is a historic landmark located in the Pilsen neighborhood of Chicago. It was founded by John Dusek at the turn of the century as a neighborhood establishment. Dusek was a family man, a tavern owner, and a facilitator of the arts. He was a visionary, and the founding father of Thalia Hall. His hope for the corner of 18th & Allport was to build a public hall for the community. In 1892 his dream became reality: a multi-purpose property that would offer commercial storefronts, residential housing, and a hall for the community. In September 2013, owners Bruce Finkelman [Beauty Bar, Bite, Empty Bottle, EBP, Longman & Eagle] and Craig Golden [Longman & Eagle, Space, Union] launched three new concepts within this storied property: a re-established beer inspired restaurant, a Punch focused cocktail bar, and a public hall fit for all types of events.