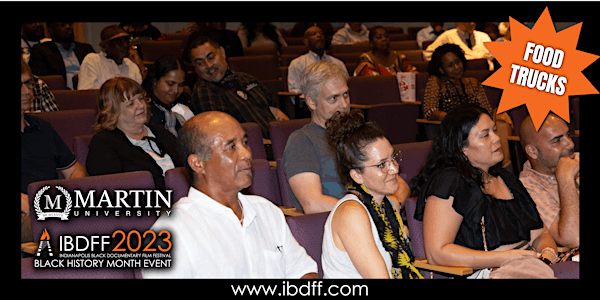 IBDFF Black History Month Film Screening Event
The IBDFF, in collaboration with Martin University, is holding a Black History Month event to showcase films about African-American history.
By Indianapolis Black Documentary Film Festival
Date and time
February 10 · 6:30pm - February 11 · 5pm EST
Location
2186 N Sherman Dr 2186 North Sherman Drive Indianapolis, IN 46218
About this event
Join us for a weekend of history at Martin University! We will be screening 3 films in the Fr. Boniface Hardin Gathertorium and host food trucks at the event.
The IBDFF seeks to create a venue which filmmakers, storytellers, producers, and members of the film community can come together to appreciate showcased films. These films will focus on African-American history and issues that are pertinent to the Diaspora.
We support black film survival and inspiration to the public as worthy examples of admiration and emulation. Our Black History Month event is an effort to provide this opportunity by screening the following films:
Feb. 10th, 6:30pm - 100 Years From Mississippi - Directed by Tarabu Betserai Kirkland
100 Years From Mississippi is a documentary that tells the story of Mamie Lang Kirkland's departure from Mississippi at age 7 and her return at age 107. Mamie's story is a testament to the courage and hope of her generation.
Feb. 11th, 1:00pm - Taking Israel - Directed by Vincent Singleton
Taking Israel is a documentary that tells the story of Wilberforce University students that traveled to Israel over a 15 year period observing the political, social and educational conditions in the country.
Feb 11th, 3:00pm - This Is [Not] Who We Are - Directed by Beret E. Strong and Katrina Miller
This is [Not] Who We Are is a documentary film exploring the gap between Boulder, Colorado's progressive self-image and the lived experiences of its small but resilient Black community.
Q&A after screening
See trailers here: https://ibdff.com/2022-trailers
About the organizer
The Indianapolis Black Documentary Film Festival showcases documentaries about the African American experience that may otherwise never be seen. IBDFF is committed to fostering appreciation for documentary film and inspiring socially conscious cultural discourse.
Attendees have the opportunity to view exceptional documentary films and take part in moderated discussions with filmmakers relating to the artistry, passion, and work involved in independent filmmaking, as well as social issues, both past and present.