Description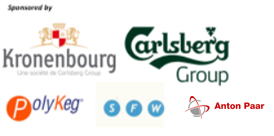 JOIN US FOR THE IBD MASTERCLASS 2019 in the historic town of Obernai, France to get inspiring insights on sustainable development and learn how the brewing and distilling industry uses technology to shape a sustainable future!
We are going through a sustainability revolution that will rival the agricultural and industrial revolutions in the way it will transform society. Innovation and creativity will be needed to develop radical, new products, and technologies that are less damaging to the environment and generate new businesses and jobs. For the purpose of the Masterclass we see sustainable development in a holistic way – 'making a positive impact on the world we live in' and there are three angles that we are looking to address during the Masterclass.
1. Environment
2. Communities
3. People
The 2019 Masterclass event kicks-off with an informal welcome evening at the La Halle Aux Blés a traditional Elsass restaurant. The technical seminar the next day features presentations on the topic of 'SUSTAINABILITY THROUGH TECHNOLOGY by international speakers from the brewing and distilling industries and a keynote by Prof. Schmidpeter, a respected expert in the field of sustainable development. The seminar day concludes with a reception followed by dinner at the Restaurant 'Jardin des Rempart'. On the last day of the Masterclass we will visit the Kronenbourg brewery and the Carlsberg Global Research Center in Obernai.
Programme
Wednesday, 11 September
WELCOME TO OBERNAI
17.30 - Welcome evening
Restaurant La Halle Aux Blés, Place du Marché, 67210 Obernai, France
Thursday, 12 September
TECHNICAL SEMINAR 'SUSTAINABILITY THROUGH TECHNOLOGY'
Hotel À la Cour d'Alsace , 3 Rue de Gail, 67210 Obernai, France.

8.15 - Registration and Coffee
8.45 - Welcome to the 4 th IBD Masterclass
Dr. Jerry Avis (IBD Chief Executive) and Dr. Michaela Appelbee Miedl (IBD International Section Chair)
9.15 - Welcome on behalf of the host Carlsberg
Myriam Shingleton (Vice President Product Development at Carlsberg Group, Obernai, France)
9.30 - Opening Keynote Thinking the present from the future: Sustainability as the new management paradigm!
Prof. Dr. Schmidpeter (Director and Chair of International Business Ethics and CSR, Centre for Advanced Sustainable Management (CASM) Cologne Business School, Cologne, Germany)
10.30 - Coffee Break
11.15 - "Sustainable Brewing – Introducing Together Towards ZERO"
Simon Boas Hoffmeyer (Sustainability Director at Carlsberg Group)

11.45 - "Consumer relevant Sustainable Packaging"
Håkon Langen (Packaging Innovation Director at Carlsberg Group)

12.15 - Lunch
13.45 - "Brewing Beer with a Conscience the Story of Purity Brewing"
Flo Vialan (Director of Brewing, Purity Brewing Co., UK)
14.15 - "Talent as the Multiplier for a Sustainable Future"
Tiago Brandão (New Business Director Beer & Brewing, Super Bock Group, Porto, Portugal)
14.45 - "A Toast to Sustainability The Journey of the Scotch Whisky Sector"
Morag Garden (Head of Sustainability and Innovation, Scotch Whisky Association, Scotland, UK)
15.15 - Coffee
15.45 - "Sustainability is OUR Business The story of Coopers Brewery and Maltings."
Dr. Tim Cooper MA (Managing Director and Chief Brewer of Coopers Brewery, Adelaide, Australia)
16.15 - "Respecting tradition but doing it our own way - The Story of the Spirit of Yorkshire Distillery" David Thompson and Tom Mellor (Director and Co-Founder Spirit Of Yorkshire Distillery Ltd, Hunmnaby North Yorkshire, UK)
16:45 - Q&A with the Audience & Panel Discussion
Moderated by Prof. Rene Schmidpeter
17.00 - Close
19.00 - Dinner
Restaurant Jardin des Rempart and courtyard at Hotel À la Cour d'Alsace
Friday, 13 September

TOUR OF KRONENBOURG BREWERY AND CARLSBERG GLOBAL RESEARCH CENTRE
9.00 - Bus transfer
Pick up at Hotel À la Cour d'Alsace, 3 Rue de Gail, 67210 Obernai, France
9.30 - Technical Tour with the Kronenbourg Brewmasters
SAFETY SHOES REQUIRED PLEASE BRING YOUR OWN!
11.00 - End of Masterclass

Hotel Recommendations

1. HOTEL À LA COUR D'ALSACE, 3 Rue de Gail, 67210 Obernai, France. www.cour-alsace.com. IBD Masterclass seminar venue.
149 EUR p.P/night single room, including breakfast. Quote IBD Masterclass to obtain negotiated rate.
1. HOTEL LE COLOMBIER, 6-8 Rue Dietrich, 67210 Obernai, France. www.hotel-colombier.com. 3 min walk to the seminar venue.
2. LOGIS HOTEL LA CLOCHE, 90 Rue du Général Gouraud, 67210 Obernai, France. www.la-cloche.com. 3 min walk to the seminar venue.
3. HÔTEL LE GOUVERNEUR, 13 Rue de Sélestat, 67210 Obernai, France. www.hotellegouverneur.com. 7 min walk to the seminar venue.
4. HOTEL LES JARDINS D'ADALRIC , 19 Rue du Maréchal Koenig, 67210 Obernai, France. www.lesjardinsadalric.com. 20 minute walk to the seminar venue.
Hotels:
URGENT: hotel rooms cannot be guaranteed so please make your reservation as soon as possible!
We have reserved rooms in Hotel la Cour d´Alsace, Le Gouverneur and La Cloche. As it is high season we recommend you reserve in one of these 3 Hotels under "KRONENBOURG" soonest. Other Hotels are available under booking platforms such as Trivago or booking.com Please not that September is high season in Alsace so make your reservations soonest.
Dietary requirements: please indicate any dietary preferences or allegies to Stephen Wilkinson stephen.wilkinson@chello.at
What is included in your ticket?
Ticket classes: IBD member, Student (full time, university), Industry/academic (non-IBD)
Welcome evening with food and beer.

Technical Seminar "Sustainability through Technology", includes lunch & coffees

Seminar Reception and Dinner with food and drinks

Tour of Kronenbourg Brewery and Carlsberg Global Research Centre.

The presentation slides from the seminar in digital format
Ticket classes: "Evenings-only" ticket
Welcome evening with food and beer.

Seminar Reception and Dinner with food and drinks

Tour of Kronenbourg Brewery and Carlsberg Global Research Centre.
Important Notice:
Please note that this event will be filmed, by attending you agree to the following statement:
I hereby consent to the IBD using images of myself caught in video recordings, and/or photographs, taken/recorded by the IBD at the event or location of the IBD Europe Masterclass. I consent to them being used for marketing and publicity related purposes and to their use in other IBD publications. I understand that they may be published on social media channels or on the IBD website, other websites or elsewhere.
I understand that:
My images will be held in accordance with the GDPR guidelines (the General Data Protection Regulation);

The images of myself captured in the video recordings and/or photographs will be the copyright of the IBD and any other intellectual property which arises in the photographs/recordings will also belong to the IBD.

I hereby agree to irrevocably assign all property rights in my photographs and/or recordings to the IBD.

I hereby agree to waive all rights in my performance in the film and/or recordings to the IBD.

I can ask the IBD to stop using my images at any time, in which case efforts will be taken to prevent them being used in future digital and offline publications but they may continue to appear in publications already in circulation. If the recording is going to capture me speaking (e.g. an interview, presenting information, etc), I also agree that I will only include any material in the recording which is the intellectual property (including copyright) of another party, if I have their permission or a licence to do so and irrevocably licence to the IBD to use and sub-licence any copyright in the words spoken (once fixed by the recording).