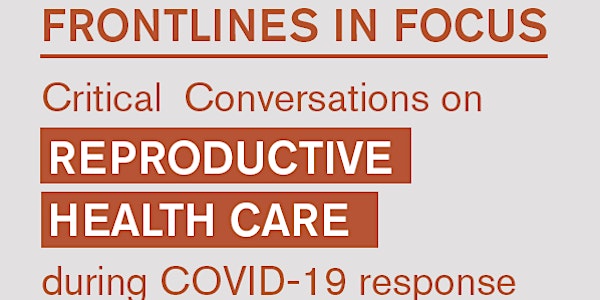 IAWG Frontlines in Focus: Reproductive Health during COVID-19
Event Information
Location
Zoom Link - sent to RSVPs
Description
Frontlines in Focus: Critical Conversations on Reproductive Health During COVID-19
A webinar series to connect, share, seek support and advice from frontline experts, and inform IAWG's response to help meet your needs during the COVID-19 response.
Frontline implementers around the world have been forced to quickly adapt to meet the sexual and reproductive health (SRH) needs and continue the provision of services during the COVID-19 pandemic. Frontline service providers and implementers are invited to connect, discuss challenges, share learnings, and hear from each other about promising solutions and programmatic adaptations.
During this webinar, attendees will participate in smaller breakout sessions. This is a great opportunity for those seeking technical advice, wanting to share a promising adaptation, and those in need of community and moral support. These events are open to all–including non-IAWG members. Please share with colleagues who may find the conversation valuable. Thank you in advance for your engagement, and we hope to see you at an event!
Who should attend?
Everyone is welcome to attend, but this webinar is intended to reach frontline providers of sexual and reproductive health services, particularly those working in humanitarian settings.
What will be discussed?
Promising solutions and programmatic adaptations

Current challenges and common questions

Gaps in technical advice and programmatic guidance

Share and connect with members of the IAWG community
Date and time
Location
Zoom Link - sent to RSVPs
Organizer of IAWG Frontlines in Focus: Reproductive Health during COVID-19

We are an international coalition of organizations and individuals working collectively to advance sexual and reproductive health and rights in humanitarian settings.