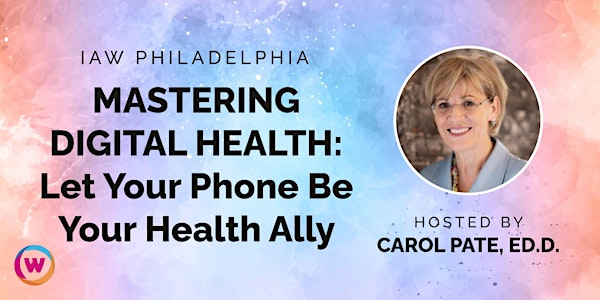 IAW Philadelphia: Mastering Digital Health:
Creating healthy habits, getting more exercise or better sleep, tracking your moods, and managing
About this event
all of your health goals can be simplified by using your phone. But knowing how to do that can be overwhelming.
On Tuesday, August 16th, IAW Philadelphia will host Carol Pate, Ed.D., who will walk us through what's out there on our phones to manage those things, how to get what we each need through best practices, and how to be mindful of protecting our data.
8:30 am ET | Introductions
8:40 am ET | Tips & Round Table Discussion
9:10 am ET | Share Your Ask
Meet Our Guest Host | Carol Pate, Ed.D.
Carol Pate, Ed.D., FCPP, serves as Vice-President of Research and Education of Envision2bWell, Inc, a public benefit corporation with a mission of empowering, enabling, and inspiring health and well-being for humankind.
The International Association of Women (IAW) is a global in-person and online professional networking platform that provides women with the forum, education, and services to thrive in an interconnected world.
IAW members have diverse backgrounds, beliefs, perspectives, and lifestyles, but with one common bond - their ability to succeed. Through local chapters and events, our community empowers members to realize their dreams, acquire the connections and knowledge needed to rise, and help them build better work-life integration and the confidence vital to lead.