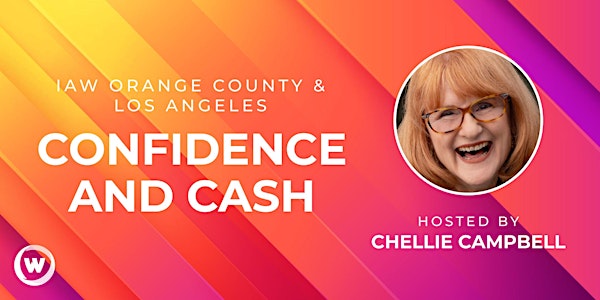 IAW Long Beach, Los Angeles, Orange County, Pasadena, & San Fernando
Are you struggling to take your career to the next level? Do money and finances stress you out? You aren't alone!
About this event
Millions of women are climbing the corporate ladder or starting businesses, but many lack the courage or know-how to get from one step to the next.
Thursday, August 18th, IAW Orange County hosts Chellie Campbell who will show you how to make gold calls and avoid cold calls, why women settle for "praises" instead of "raises", and discuss the number one attitude that will kill your business…and how to avoid it!
7:30 am | Introductions
7:40 am | Tips & Round Table Discussion
8:10 am | Share Your Ask
Meet Our Guest Host | Chellie Campbell
A Talk from her book From Worry to Wealthy: A Woman's Guide to Financial Success Without the Stress by Chellie Campbell, personal finance guru. Chellie Campbell draws on proven strategies from her popular Financial Stress Reduction® Workshops to help women win at work and in life, including advice on how to: Harness the four C's of career success - Confidence, Charisma, Clients, and Cash; Learn how to make Gold Calls and avoid Cold Calls; Why women settle for "praises" instead of "raises"; The Number One Attitude that will kill your business; BUDGET stands for Baby-U-Deserve-Getting-Every-Thing!
The International Association of Women (IAW) is a global in-person and online professional networking platform that provides women with the forum, education, and services to thrive in an interconnected world.
IAW members have diverse backgrounds, beliefs, perspectives, and lifestyles, but with one common bond - their ability to succeed. Through local chapters and events, our community empowers each member to realize their dreams, acquire the connections and knowledge needed to rise, and help them build better work-life integration and the confidence vital to lead.