As part of our Covid-19 response in support of managers in language schools, we are delighted to host another panel discussion in July.
About this event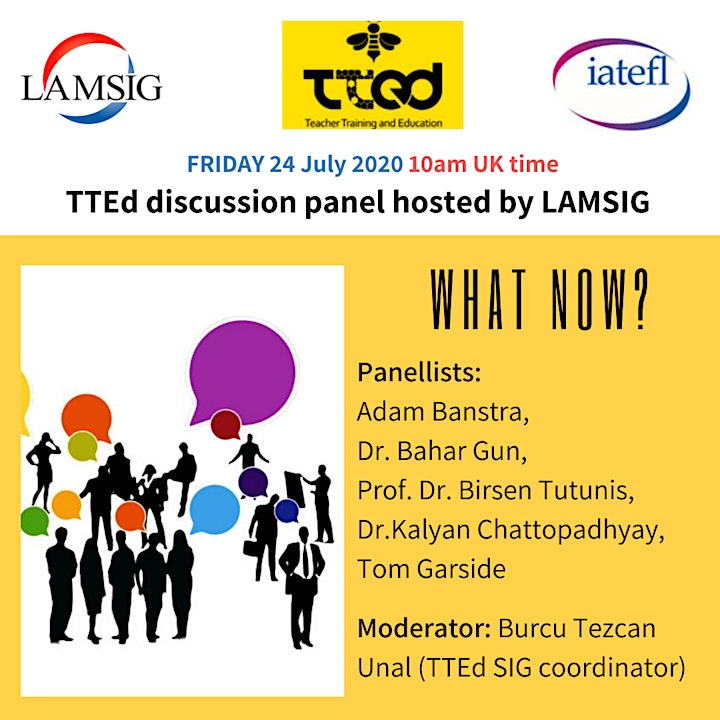 https://lamsig.iatefl.org/lamsig-in-the-time-of-covid-19/special-events
'What now?': a TTEd panel hosted by LAMSIG
Panellists: Adam Banstra, Dr. Bahar Gun, Prof. Dr. Birsen Tutunis, Dr.Kalyan Chattopadhyay, Tom Garside
Moderator: Burcu Tezcan Unal (TTEd SIG coordinator)
This is a fourth discussion panel hosted by LAMSIG to support school leaders and academic managers during the Covid-19 crisis, this time in collaboration with the Teacher Training and Education IATEFL SIG.
Some of the topics we are going to discuss:
Adam Banstra - Observation of online teachers
Dr. Bahar Gun - The role of trainers in an online INSET workshop festival
Prof. Dr. Birsen Tutunis - Teaching in-service (student) teachers online
Dr. Kalyan Chattopadhyay - Online learning: accountability and quality control
Tom Garside - Emerging trends in online teacher education
Privacy notice
By completing this form you are agreeing to share your details with the relevant committee member(s) of the IATEFL LAMSIG, rather than with IATEFL Head Office.
The information included on the form will be used only for the purpose of sending you the link to the webinar on 24 July 2020, and will not be disclosed to any third party or be used to send unsolicited emails. Any data that is no longer required by the IATEFL SIG for the specific purpose of the webinar link will be deleted.