IATEFL LAMSIG Discussion Panels: What Now? Panel 3. Business Management
As part of our Covid-19 response in support of managers in language schools, we are delighted to present another panel discussion in July.
About this event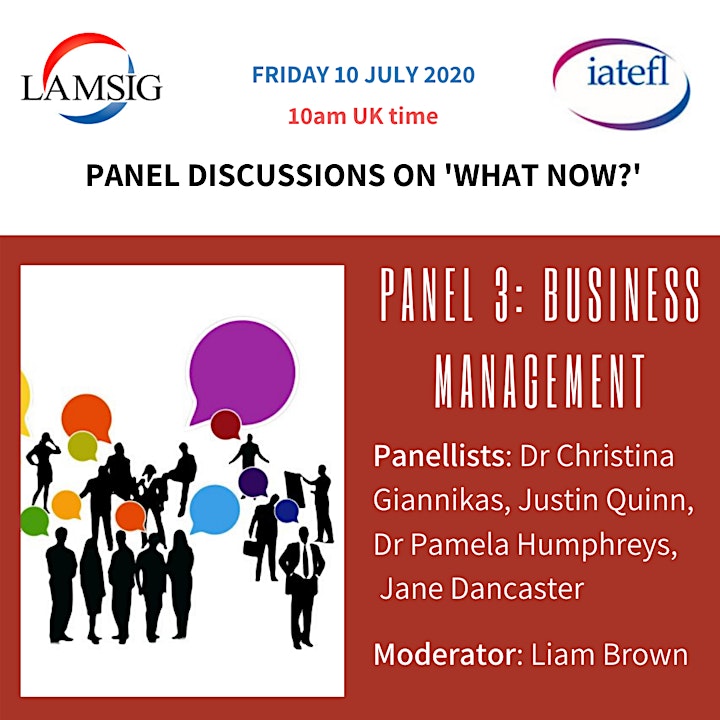 https://lamsig.iatefl.org/lamsig-in-the-time-of-covid-19/special-events
Panel 3: From small business/school owners and managers to CEOs and departments heads - What's the new normal?
Panellists: Dr Christina Giannikas, Justin Quinn, Dr Pamela Humphreys, Jane Dancaster
Moderator: Liam Brown
This third in a series of discussion-and-question led IATEFL LAMSIG Webinars provides a forum for ELT academic managers and stakeholders to connect with a panel of expert academic practitioners and ELT business owners to share our understanding and response to Covid-19 and how we prepare for the future. How much of our varied ELT business will return to our familiar "normal" and how much will be a "new normal"?
Some questions we'll consider:
How has Covid 19 allowed or forced us to step back and look at how we do things?
How will the sales, marketing and customer facing operations change?
What is the impact now of the rapid pivoting from face to face to on-line?
Does this pivot offer new competitive advantages to individual institutions and what needs to be done to maintain high quality teaching and service?
In the higher education sector are there opportunities now to innovate and push for higher standards and efficiencies in our programmes, back-office systems and processes?
What does all this mean for our people and how do we balance the human dimension with new business realities?
Privacy notice
By completing this form you are agreeing to share your details with the relevant committee member(s) of the IATEFL LAMSIG, rather than with IATEFL Head Office.
The information included on the form will be used only for the purpose of sending you the link to the webinar on 10 July 2020, and will not be disclosed to any third party or be used to send unsolicited emails. Any data that is no longer required by the IATEFL SIG for the specific purpose of the webinar link will be deleted.