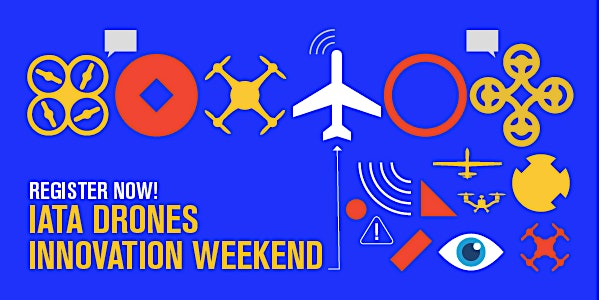 IATA DRONES INNOVATION WEEKEND 2019
When and where
Location
Universitat Politècnica de Catalunya · BarcelonaTech 7 Carrer d'Esteve Terradas 08860 Castelldefels Spain
Description
The IATA Drones Innovation Weekend is taking place in Barcelona on 30-31 March. During this event, participants will develop proof-of-concept for the safe operation and business impact of drones in an aviation context. You can access the challenges to select which one you would like to participate in.
If you are an innovator, corporate developer, or aerospace enthusiast, you're welcome to register as a team using the link above. There will be prizes for the winners, including a coveted speaking slot to present their solutions and proposed concepts of operations at the prestigious 2019 IATA Safety & Flight Operations conference which takes place in Barcelona a few days later.
The IATA Drones Innovation Weekend is free to participate and open to all interested teams who want to be involved in the competition. You will have to meet the registration requirements indicated in the Terms & Conditions to be able to join the event.
To register for this event participants must:
Form their teams (minimum of 2 members per team, maximum 8 members)
Select a challenge to compete in
Team captains must register their team by clicking on:
Register (top of this page) > Teams > Create Team
Remaining team members must then register by clicking on:
Register (top of this page) > Teams > Join A Team

The competition will take part in two phases:
Phase 1 – Ideation (March 25-29):
The first phase, will allow participants in the Drones Innovation Weekend to submit and discuss ideas using an on-line tool in relation to the Challenges with a panel of experts who will act as virtual mentors. The goal is to allow the participants to adjust ideas they want to build in the Innovation Weekend by receiving feedback from the mentors. Upon completion of registration, the participants will be sent an email with the Challenge contents, supporting documents and information, and access to the tool for Ideation Phase. The participants will be invited to join an on-line meeting for the start of the Ideation Phase on 25 March 2019.

Phase 2 - Drones Innovation Weekend (March 30-31):
The second phase, which will be held from 30-31 March 2019 in Barcelona during which participants will further develop and pitch their ideas, designs and solutions. A Jury of experts will assess the participants' solutions and then select the winning teams.
For more information about the competition program and phases, click here

FAQs
Who should attend?
We're inviting innovators, corporate developers and aerospace enthusiasts from around the world to participate in this event and show-case how they would solve various challenges through creative concepts and application of technology.

What will we provide?
Break-out rooms where teams can work on their solution
Relaxation areas for contestants to rest and recharge
High Speed Wi-Fi Internet Connection and power outlets
Complimentary catering (meals, snacks and refreshment beverages) for the duration of the event
On-site security and storage space for equipment

What will you need to do?
Form your team and fill out the required information via the registration link above before the deadline
Bring your laptop and other electronic devices on the day of the event
Arrange transportation to the venue
Visa and travel arrangements as applicable
Arrange hotel accomodation

Terms & Conditions
By registering for this competition participants explicity agree to the Terms & Conditions
Questions? Contact us at IATA_UAS@iata.org