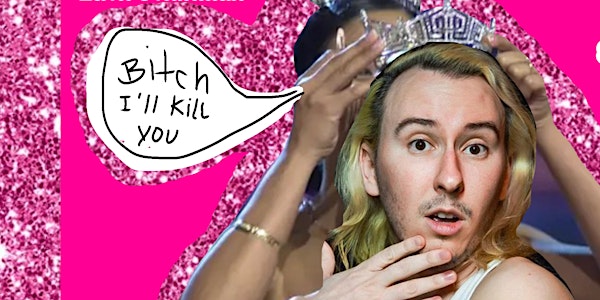 Ian Lockwood's Girlfriend Pageant
**PROOF OF FULL VACCINATION REQUIRED**
Performers
Ian Lockwood
Maggie Crane, Glennis LaRoe, Clara Olshansky, Hannah Pilkes, Lucyana Randall, Jesse Roth, Maya Sharma, Karolena Theresa, Leanne Velednitsky, Zach Schiffman, Tej Khanna
Location
Union Hall
702 Union St.
Brooklyn, NY 11215
Ian Lockwood's Girlfriend Pageant- Saturday, September 10 - 9:30pm Doors / 10:00pm Show **PROOF OF FULL VACCINATION REQUIRED**
About this event
20 women compete to be pop-star-comedian Ian Lockwood's heterosexual girlfriend! With 4 rounds -- Gown & Age, Talent, Verisimilitude, and Emotional Support -- any of these beautiful women could be crowned Ian's Girlfriend.
The winner will reign as Ian's heterosexual girlfriend for one (1) year and receive a one (1) year supply of hot dogs from Jonathan's Crazy Hot Dogs*.
* One (1) year supply of hot dogs is defined as one thousand (1000) hot dogs and will be delivered in one shipment on January 1st, 2022. Buns not included.
Featuring:
Tessa Belle
Shosh Brodman
Emory Cannon
Steph Cook
Maggie Crane
Caroline Dunn
Brooke Eliot
Esther Fallick
Glennis LaRoe
Clara Olshansky
Victoria Pandeirada
Hannah Pilkes
Meeti Purani
Lucyana Randall
Jesse Roth
Maya Sharma
Chet Siegel
Marissa Solomon
Karolena Theresa
Leanne Velednitsky
Emily Wirth
With a Special Appearance by Zach Schiffman
Judges: Ben Warheit, Nathan Yim, and Tej Khanna
9:30pm Show
$10 advance / $15 day of
Ages 21+
**PROOF OF FULL VACCINATION REQUIRED FOR ENTRY**
*This event will be mixed seated/standing. Arrive early for best seat selection
IMPORTANT:
All attendees must have proof of full COVID-19 vaccination. Please download and register with NY's Excelsior Pass. You must present this at the door to verify your vaccination. If you are visiting from out of town or can not access the Excelsior Pass app, you must present your vaccination card at check-in. NAME ON VACCINATION CARD MUST MATCH YOUR ID.
Full Vaccination is 14 days after your second dose of the Pfizer-BioNtech or Moderna COVID-19 vaccine or at least 14 days after your single dose of the Johnson & Johnson's COVID-19 vaccine