Ian Ethan Case @ Norton Buffalo Hall

Sunday, April 15, 2018 from 7:00 PM to 10:00 PM (PDT)
Event Details
Norton Buffalo Hall
- Presents - 
Double-Neck Guitarist & Composer | Candyrat Recording Artist
Ian Ethan Case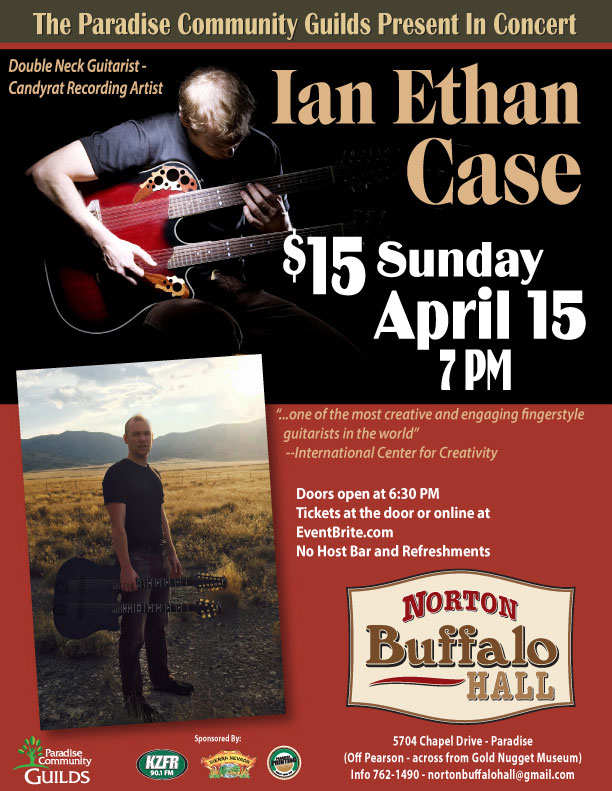 Sunday, April 15, 2018 at 7PM
Doors open at 6:30PM.  Seating is limited.
Tickets are $15, available online or at the door.
Refreshments will be served / Drinks for Purchase
PRESS 
"...sets standards not only in the field of acoustic guitar...he will probably be rightly regarded as one of the most innovative guitarists of our time." —Andreas Schiffmann, MusikReviews.de

"Few musicians tackle the challenging double-neck guitar, and perhaps few have done it with the intellectual intensity and skill of Ian Ethan Case. Case's inventive multi-layered compositions are like nothing you've heard before. His new album, Run Toward The Mountains, is both meditative and commanding." —The Christian Science Monitor

""His new recording, Run Toward the Mountains, is a transfixing brand of energetic minimalism, with intense grooves and a harmonic sense reminiscent of Pat Metheny's best moments." —Don Ross, 2x winner, US National Fingerstyle Guitar Competition
ABOUT IAN ETHAN CASE
What does one do with a double-neck, 18-string guitar? 
If your name is Ian Ethan Case, you make musical magic.
One of only five musicians worldwide to tackle the instrument in earnest, Case has invented a variety of playing techniques that provide a musical vocabulary to take double-neck guitar music into a whole new realm. 
Not only does Case deliver the goods musically, seeing him perform live is a visually astounding experience.   He combines modern techniques of tapping and slapping the instrument with a dizzyingly dexterous dance of hands, a pas de deux that leaps back and forth between twelve strings and six.  Case also employs electronics to repeat and build blocks of harmony into intricate textures, and will sometimes sing into his guitar for further effect.  Listening with eyes closed, one imagines an ensemble of several innovative players; to see him play live is to be astonished.
Case's composerly and rambunctious approach to the instrument weaves in several genre influences – minimalism, funk, new-age, jazz, rock, and Celtic, to name a few.  But Case goes beyond delivering mere virtuosity and range of style by providing original compositions that are rich, heartfelt and powerfully uplifting.
Emmy-winning composer and producer Peter Bruce Wilder was one of the first to discover the young artist's talent and unique voice in the remote hills of northern Vermont, proclaiming in 2008: "Ian Ethan represents something so new in musical approach, that the result is near impossible to pigeon hole into a 'sounds like' statement.  It has been my personal privilege to observe his unwavering and deep exploration of this new technique and on a relatively rare instrument; the original music of Ian Ethan Case is not to be missed."
Watch Ian's Videos!
Here's Ian Ethan playing with Gianluca on "Butter II"
Ian Ethan plays with G Maxwell Zemanovic on "Not In Vain"
Ian Ethan solo on "The Comforter"
---
Coming up:
2018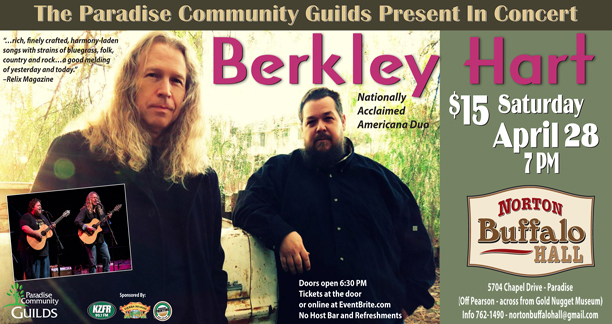 • Sat, Apr. 28 7PM | Berkley Hart (San Diego, CA)
• Thu, May 24, 7PM | Mike Beck (WY)
• Sat, Jun. 30, 7PM | Celebrating songwriters
• Sat, Jul. 21, 7PM | Bird & Wag (featuring Peter and Tricia Berkow) with the Paper Hats (featuring David Bilinski and Dana Hanson)• Fri, Aug. 31, 7PM | Moody Little Sister (Portland, OR)
• Sat, Sep. 15, 1-5PM | Unity In Diversity Festival
• Sat, Sep. 29, 7PM | Hannah Jane Kyle
• Sat, Oct. 6, 7PM | Jon Strider (Malmø, Sweden)
• Fri, Oct. 26, 7PM | Halloween Costume Party & Zomie Stomp
• Sat, Dec. 15, 7PM | Christmas Jug Band

2019
• Thu, Feb. 14, 7PM | Valentine Duets
• Sun, May 19, 7PM | Claude Bourbon (U.K.)
For more info call 762-1490
When & Where

Norton Buffalo Hall
5704 Chapel Drive
Paradise, CA 95969


Sunday, April 15, 2018 from 7:00 PM to 10:00 PM (PDT)
Add to my calendar
Organizer
Located at the Chico Guild Hall, 2775 Nord Ave in Chico.
Norton Buffalo Hall was the home of Paradise Community Guilds, an historic, non-profit, community-based service organization promoting the values of sustainability and stewardship.
Chico Community Guilds has graciously allowed us to honor our music events at Chico Guild Hall under the name "Norton Buffalo Hall WEST" while we pull together the resources to rebuild in Paradise.
Membership is open to all, and the public is generally welcome to attend all Guilds events.
Photos and other media support can be found at https://www.facebook.com/pcgevents/.