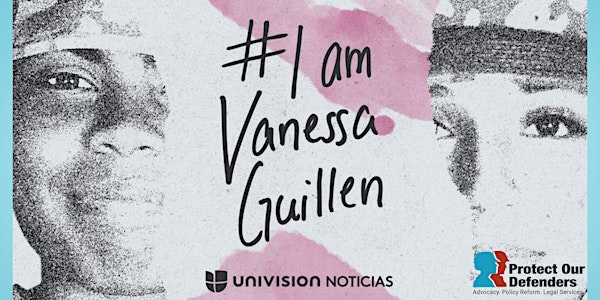 #IAmVanessaGuillen Documentary Film Screening / SF Bay Area Premiere
Documentary film #IamVanessaGuillen highlights the resilience of survivors of military sexual violence and their fight to change the system.
When and where
Location
Franklin Templeton 1 Franklin Parkway Bldg 960 San Mateo, CA 94403
Refund Policy
Contact the organizer to request a refund.
About this event
Protect Our Defenders (POD) is the pre-eminent national human rights organization dedicated to ending sexual violence, victim retaliation, misogyny, sexual prejudice, and racism in the military and combating a culture that has allowed it to persist. POD and its President, Colonel Don Christensen, USAF (ret.), are featured prominently in #IamVanessaGuillen and worked directly with director and producer Andrea Patiño Contreras in the making of #IamVanessaGuillen to uplift survivor voices.
#IamVanessaGuillen follows the story of Karina Lopez & other survivors in their fight to change the system that silenced them. Representatives from POD will be in attendance.
This is a fundraiser to support POD's work with military sexual assault survivors. The screening will be at Franklin Templeton in the HL Jamieson Auditorium, located in Building 920, 1 Franklin Parkway, San Mateo, CA 94403.
This film screening was made possible with the support of Franklin Templeton and Univision Bay Area.
www.protectourdefenders.com
Un documental sobre la resiliencia de las víctimas de violencia sexual en las Fuerzas Armadas y su lucha para cambiar el sistema que las silenció.
Desde el 2011, Protect Our Defenders (POD) ha trabajado para reformar el sistema de justicia militar para asegurarse que toda víctima sea protegida de sus agresores y de cualquier tipo de represalia por su cadena de mando y otros miembros del servicio militar. Protect Our Defenders, ofrece ayuda legal a aquellas personas que han sido abusadas sexualmente, acosadas sexualmente, o violadas por miembros activos del servicio militar.
Dos años después de sobrevivir una agresión sexual en la misma base, Karina Lopez creó una publicación viral con el hashtag #IamVanessaGuillen (#YoSoyVanessaGuillen). A pesar de enfrentar represalias, ella y otras soldados latinas han seguido luchando para conseguir justicia.
Este evento es una recaudación de fondos para apoyar el trabajo de POD con víctimas de trauma sexual en las Fuerzas Armadas. Tiene lugar en el auditorio HL Jamieson de Franklin Templeton, Edificio 920, 1 Franklin Parkway, San Mateo, CA 94403.
La proyección de este documental ha sido hecho posible por la participación de Franklin Templeton y Univision Bay Area.
https://www.univision.com/especiales/noticias/2022/i-am-vanessa-guillen/#/es/