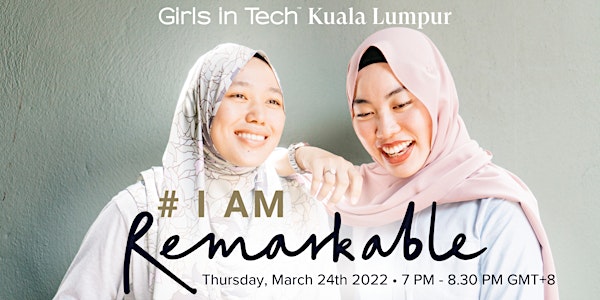 #IamRemarkable Girls in Tech KL Workshop
#IamRemarkable is a Google initiative empowering underrepresented groups to celebrate their achievements in the workplace and beyond.
About this event
#IamRemarkable: Challenge the perception around self promotion
#IamRemarkable is a Google initiative empowering women and underrepresented groups to speak openly about their accomplishments in the workplace and beyond, thereby breaking modesty norms and glass ceilings.

In this interactive session, you will participate in group discussions and exercises to develop the confidence and skills to promote yourself effectively.


During the 90 min #IamRemarkable workshop we will:

1. Improve the motivation and self-promotion skills of women and underrepresented groups 

2. Change social perceptions and refresh the conversation around self-promotion
Speaker Profile
Mollie Boyd is a speaker and trainer who values dedication, strive and excellence. She aims to help startups, SME's, entrepreneurs, job seekers and students to better understand digital tools and resources that support people to grow their careers and businesses as technology. She is widely regarded as the go-to source on Digital Skills
Along with her skills and knowledge in 21st Century Digital skills and Entrepreneurship, Mollie also specialises in self-development, youth empowerment and women leadership with special emphasis on diversity and inclusion.
She brings with her a passion of learning and a solution focused attitude, with a unique blend of creativity and empathy. She inspired to help people to take their careers - and themselves - to unprecedented levels.
https://www.linkedin.com/in/thenmoli-boyd/
PRE-EVENT INFORMATION
Requirements
Webinar is open to all who are interested irregardless of the gender. The webinar talk will be held on Zoom . Please create a Zoom account to interact directly with the speakers.
ABOUT GIRLS IN TECH
Founded in 2007 by Adriana Gascoigne, Girls in Tech is a nonprofit organization dedicated to eliminating the gender gap in tech. We have more than 60,000 members in 50+ chapters around the world.
Girls in Tech started with an idea: There is a strong, smart and outspoken girl within all of us. We exist to make sure that girl is heard. Because when every voice, every perspective, every personality is honored and respected, we do better work and live richer lives. At Girls in Tech, we are passionate about inclusivity, because we know that tech today requires people of all skills and backgrounds. Whether you're a data analyst, a creative, a strategist, an entrepreneur or a coder, you are needed.
JOIN US!
Interested in joining our community? Let's join forces! Click this link to become a member.
As a member, you'll have access to in-person and virtual events and workshops designed to help you grow professionally and personally. Plus, find a mentor, build meaningful relationships, and take advantage of our opportunities to find a job that's right for you.