About this Event
DJ Dials + 1015 Folsom Present
IAMDDB live
The SF Debut
ESTA (soulection)
+++ Local Support From +++
AUX CORD
Musubi | Iambzr
No Chance Radio (in the Basement) hosted by Kierst
Knowpa Slaps | William Stokes | Thunderstone Labs
DJ Madre | Wufu
Friday August 30th -- Doors/Show 10:00pm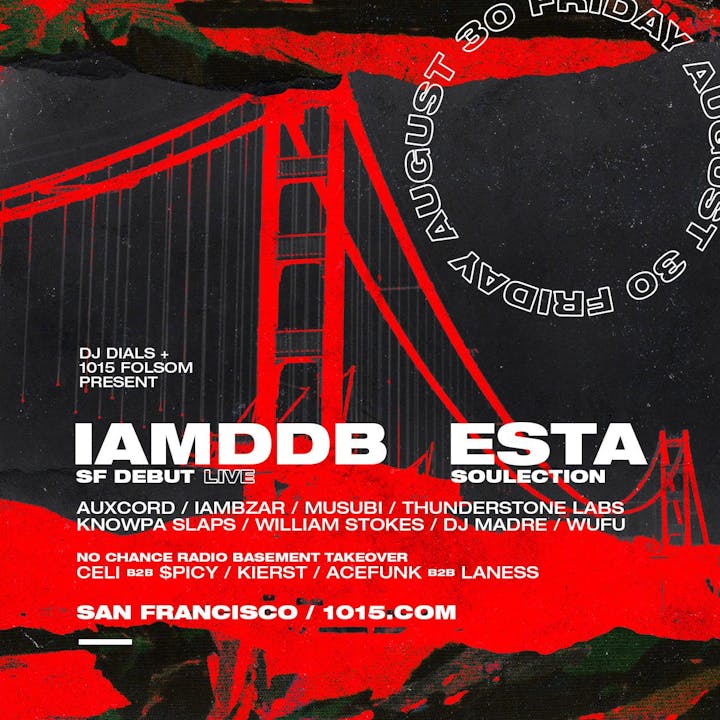 IAMDDB (UK)
A young and exciting new talent hailing from Manchester, ready to mesmerise you with her hybrid of trap-soul and sultry jazz-infused vocals. With her latest release 'HOODRICH VOL 3' and a captivating performance of single 'PAUSE' for Colours of Berlin, she has proved herself as one of the UK's most exceptional new class of artists.
ESTA
ESTA is a beatmaker's beatmaker. An open-minded, loyal supporter of all music philosophies, ESTA maintains zero barriers in his meticulous method of danceable, yet sexy music making.
Based in Southern California and part of Los Angeles-based imprint, Soulection, ESTA is a rising star within the future music ecosystem comfortably sitting at nearly 200k worldwide following on Soundcloud alone.
ESTA is a staple on the global festival & nightclub circuit --- headlining many of the culture's favorite stages like LOW END THEORY, Deviation (UK), Coachella, & Lollapollooza. Having played alongside folks like Gaslamp Killer, Sango, SoSuperSam, Mr. Carmack and Penthouse Penthouse while pulling Inspiration from artists like Hudson Mohawke, Dilla, Full Crate, M-Phases, Mos Def, Kanye and Just Blaze, ESTA seamlessly fuses multidimensional genres into an atmospheric swing.