Description
The days prior the MCT Summit we are arranging an IAMCT ATT, Approved Technical Trainer course and examination.
By attending this course and pass the exam you fulfill one of the requirements for becoming a MCT, Microsoft Certified Trainer.
Price for the course and exam are based on actual costs of arranging the training and are dependent on the amount of attendees, normally the price is around €1000-1600 Euro excl taxes when we are delivering the ATT together with a Summit, but we are aiming to get it as low as possible.
The price includes two experienced instructors delivering a practical instructional skills training, a lot of practical as well as theoretical workshop, one try on the exam which is to deliver a 20 minute session in-front of an experienced, and live, jury of MCTs which grades your performance in ten different domains, and a ticket to attend the MCT Summit.
To help us with making this event happen we would appreciate if you register as Student. Prices are set according to this ladder: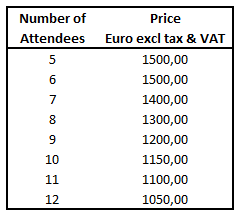 Prices will be locked at the 1st of may 2017 based on the number of registered attendees. The sooner you register the cheaper it will be. The standard price is 2000€ for the course and 175€ for the examination, savings will be between 30-50% depending on how many registered at the time of price locking.
Price is now set at 1500,00€ Euro excl tax and VAT. At the locking date we had 4 confirmed, 1 promised, and 3 unconfirmed. Since then one (1) of the unconfirmed has cancelled, and one (1) of the promised changed to confirmed, leaving us at five (5) confirmed attendees, and two (2) unconfirmed. As of today (7th of may 2017) we have 5-7 seats available.
This price includes the IAMCT ATT course 2 days & examination 1 day, and full admission to the MCT Summit 3 days. A total value of 2600€ Euro excl tax and VAT, that is a 42% discount.
If you are interested in sponsoring the IAMCT ATT, to help us lower the cost for the attendees, you are more than welcome to register as a Sponsor.
If you are interested in participating in the jury for the exam on the last day, 7th of june 2017, please register as Examinator.
Please visit the event page at http://iamct.org for more information and contact details.