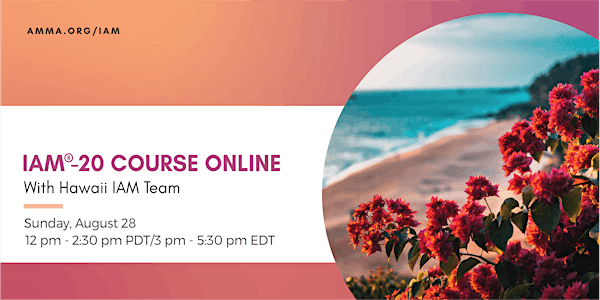 IAM-20 Meditation Course and 3 days of Guided Sessions
Learn an easy to practice 20-minute meditation using breath, movement, and visualization—for greater peace, clarity, and productivity.
About this event
About this event
Join us to learn this special technique taught in a 2.5-hour class on Zoom. If you have previously attended the course, you may retake the entire class, or attend a review portion of the class beginning at 1:40 pm PDT, for a Refresher Class.
Optional Guided Sessions will be offered for the following three days, AUG 29- SEP 1, at 12 pm PDT, to support and deepen your practice.
IAM® - Integrated Amrita Meditation is a powerful practice created by Amma. It is an integration of body and mind using a combination of breath, concentration, and gentle stretches. This complete method of meditation helps us find more fulfillment, well-being, and effectiveness in our lives.
The IAM-20 meditation is specifically designed as a daily practice for working people and takes just 20 minutes. It is suitable for people of all faiths and is not bound to any belief system. Anyone over 18 is welcome to join. There are also special Youth IAM Courses available upon request.
Visit AMMA.ORG/IAM for more information about IAM and upcoming IAM Courses, Refresher Classes, and Guided Sessions. Contact us at IAMamericas@ammagroups.org