IAHSP Southern Regional Conference
Description
IAHSP SOUTHERN REGIONAL CONFERNCE!
Join industry colleagues for this power-packed one day IAHSP Regional Conference! This day is full of topics that you need to hear and learn about! Come be part of this informative event! Meet fellow industry professionals, visit event Sponsor Booths to learn more about companies that partner with you for success.
---
---
Jan 25 - Pre-Conference Reception and Getting to Know You:
Jan 25 - 5-7 pm. Simple Elegance, 25003 Pitkin Road, Suite G200, Spring, TX
---
---
Jan 26 - IAHSP Southern Regional Conference Agenda
8:00-9:00 Registration & Continental Breakfast
9:00-10:00 State of the Industry & Building Relationships with Realtors, Rita Santamaria, Owner Champions School of Real Estate and Representative of of Brickland Homes
10:00-10:10 Break/Raffle
10:10-11:10 Design Trends – Color - JoAnne Lenart-Weary (check out the links at the bottom of this info to her Confident Color Class being offered Jan 27-28!)
11:10-11:20 Break/Raffle
11:20-12:20 Overcoming Objections with Sellers & Realtors - Jeanne Kramer & Sandy Earnhart
12:20-1:30 Lunch & Tour Houses at Main Street America
1:30-3:30 Technology, Inventory Control Management w VibeRent - Siva Sivakumar - CEO, VibeRent. Sponsors – Wholesale Purchasing
3:30-3:45 Break/Raffle
3:45-4:45 Marketing Your Business - Nick May
4:45-5:00 Break/Raffle
5:00-5:50 Time Management, Mary Scalli & Andrea Chenisi
Hiring, Training, Adding Employees & Who to Hire First, Letting Go of Control - Jennie Norris
5:50-6:00 Wrap Up/Raffle
*proposed Speakers and topics subject to change.

---
---
IF YOU ARE INTERESTED IN SPONSORING THIS EVENT, Please contact Christa@iahsp.com or call 800-392-7161. Sponsor Levels are as follows:
Platinum $1,000. Full Page Ad in Brochure, Display Table, 20 minutes to Share re:Company/Products
Gold $750. ½ Page Ad in Brochure, Display Table, 10 Minutes to Share re: Company/Products
Silver $500. ¼ Page Ad in Brochure, Display Table, 5 minutes to Share re: Company/Products
Bronze $ 250. Business Card Ad in Brochure. Display Table
All sponsors will have the ability to put an item in our swag bags.
---
---
We have reserved a HOTEL BLOCK: Group rate of only $109 (normal $129)/night
La Quinta Inn The Woodlands North
www.laquintahoustonthewoodlandsnorth.com
28673 I-45 N, The Woodlands, TX 77381 · (281) 367-7722
You just need to use code IAHSP when booking reservations with the hotel.
---
---
Confident Color Class - Jan 27-28, 2018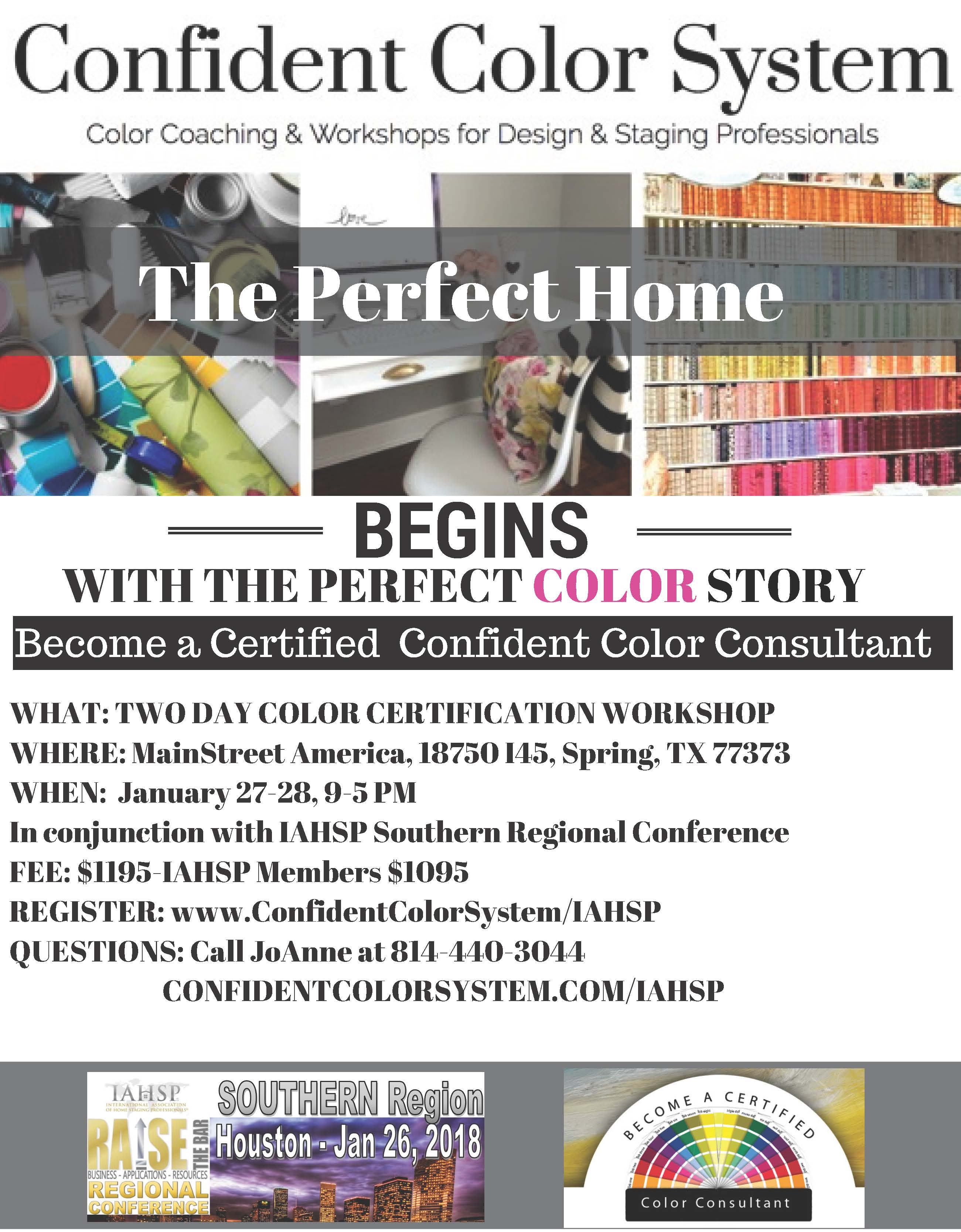 For those would like to attend JoAnne Lenart Weary's Confident Color Class, please use these links to register:
Confident Color Class Houston-IAHSP Discount

https://www.paypal.com/cgi-bin/webscr?cmd=_s-xclick&hosted_button_id=N7CM8NE596TDN

Confident Color Class Houston-Non-Member
https://www.paypal.com/cgi-bin/webscr?cmd=_s-xclick&hosted_button_id=K36NRGE356S7S