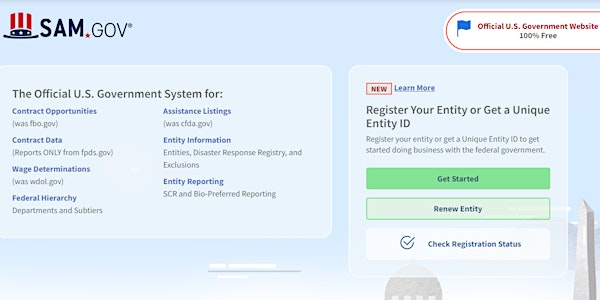 IAE Stakeholder Forum
Submit Your Questions About SAM.gov Validation , Then Join us for Answers
Date and time
Wednesday, September 14, 2022 · 10 - 11am PDT
About this event
If you have questions about the process for validating your entity's legal business name and physical address in SAM.gov, now is the time to submit them to us. During our next online stakeholder meeting on September 14, 2022 at 1:00PM (EDT), we will answer as many questions as we can.
If you have questions about an entity validation incident you created in SAM.gov, communicate through your ticket, as this session is not intended to respond to questions about information, documentation, or status related to a specific incident or entity registration.
The entity validation process is now part of SAM.gov. We've hosted two online webinars in the past few weeks to help users currently validating and those who are about to begin the process. Now, we will be hosting a third program to address questions related to the entity validation process.
You can register here for the session, which will focus on entity validation questions. You can submit your questions when you register for the webinar. All questions must be submitted by Tuesday, September 13, 2022 at 12:00PM EDT, however, you may register to participate in the program up until start time on Wednesday.
Register now! Space is limited for this presentation. However, we will make a recording of the event available online for all to watch.
We hope to see you there!
Closed captioning of the event will be available. If you are a member of the press, send an RSVP to press@GSA.gov after you register at the link above.
Please note: you may listen to the entire event through your computer audio; you are not required to dial into any conference line. All communication during the program is through the written question and answer log only.