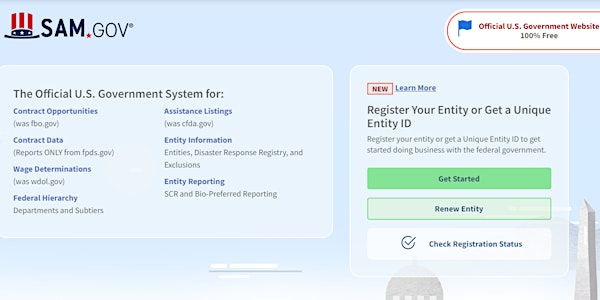 IAE Stakeholder Forum: Getting a Unique Entity ID in SAM.gov
Getting a Unique Entity ID in SAM.gov
About this event
Join the Integrated Award Environment (IAE) for the third in our series bringing the latest information about the new Unique Entity ID (SAM). Register here for the session on Tuesday, January 25, 2022, at 11:00 a.m. EDT. We will walk through getting a Unique Entity ID (SAM) and have an opportunity for Q & A at the end.
By April 4, 2022, the federal government will transition away from using the DUNS Number and toward the new Unique Entity ID as the primary means of entity identification for federal awards If you are registered in SAM.gov, you've already been assigned a new Unique Entity ID! It's viewable in your SAM.gov entity registration record. Go to fsd.gov and select the green Help on UEI Transition button to learn more.
Today, you can get a Unique Entity ID (SAM) from SAM.gov as a stand-alone request. Some of you might be subcontractors or grant subrecipients who don't need to complete the entity registration process. You just need the unique entity identifier. If you have a DUNS Number today and need to get a new Unique Entity ID (SAM), attend this Stakeholder Forum to learn how the SAM.gov process works.
Register now to participate in the January 25th program. We hope to see you there!
Live closed captioning of the event will be available. Register and join the stakeholder forum at the link below to view the demonstration and then go to this URL to view live closed captions: https://www.captionedtext.com/client/event.aspx?EventID=4999144&CustomerID=321
If you are a member of the press, send an RSVP to press@GSA.gov after you register at the link above.
Please note: you may listen to the entire event through your computer audio; you are not required to dial into any conference line. All communication during the program is through the written chat log only. In addition, we will record this event and post it on the IAE Interact space at a later time.