IACCGH Nexgen initiative: Entreprenuership: When to take the leap
IACCGH NexGen Initiative: Entrepreneurship: When to take the leap
About this Event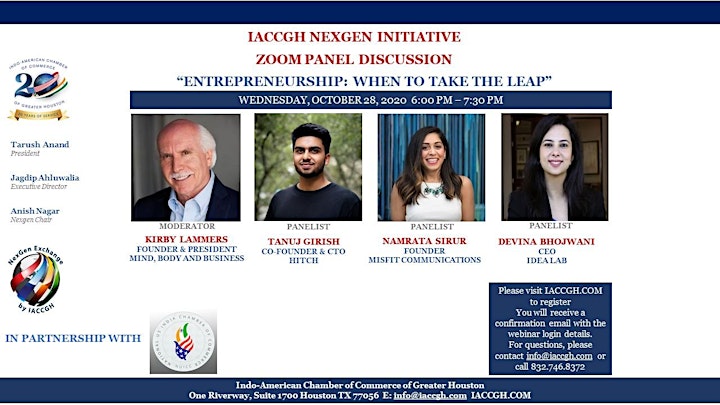 Join Nexgen Exchange as we walk through the entrepreneurial journey of three Houstonians. Each founder started their company at a different point of life, they'll discuss challenges and share experiences on what lead them to take the entreprenuership leap     !
Format:
6:00 PM-6: 45 PM: Moderated Discussion
6:45 PM- 7:15 PM: Q& A
7:15 PM-7:30 PM: Virtual Networking with the Panelists
Kirby Lammers: Moderator
Kirby Lammers is an Executive Leadership, Business, Health, and Life Coach, and owner of Mind, Body, and Business He is focused on leading and increasing the quality of performance, efficiency, productivity, memory retention, brain function, prevention of disease, enhanced energy and providing a positive shift in business culture behavior. His credentials include over 1,000 appearances on many local and national television shows along with interviews on countless radio shows, plus hosting his own radio and television show. Kirby sets the example for leaders and strategic partners by demonstrating high ethical standards, integrity, plus moral and value-based relationship building. Under Kirby's leadership, he took a leading company to exponential growth by multiplying the company six-times the annual revenue. Kirby has Chaired the Leadership Initiative Board at the University of Houston Bauer College of Business, Is Board Vice President and Camp Supervisor for "Champions Kids Camp" and is a Professional Speaker, Musician, Entertainer, and Actor. Kirby lives with desire and passion to build Next Generation Leaders and Sustainable Success to impact businesses with productive employees, work-life balance, values, ethics, and integrity within the workplace and families.
Linkedin URL: https://www.linkedin.com/in/kirby-lammers-4820b83/
Tanuj Girish: Panelist:
Co-Founder & CTO at Hitch
Tanuj is the CTO and co-founder of Hitch, a company based out of Austin TX aiming to provide affordable long distance car rides. He started the company back in 2018 with only one route between Austin and Houston. Today, Hitch is operating in every major route in Texas.
Devina Bhojwani: Panelist
Devina Bhojwani, is an entrepreneur who pivoted her career after working in the Oil & Gas sector for 10 years. She is the President at Idea Lab Kids, a STEAM based education franchise founded in Houston, TX. Idea Lab has been franchising since 2017 and has sold 94 locations in North America, Canada and the Middle East. Prior to this, Devina owned and operated four of the Gymboree Play & Music centers in Houston. She found professional success, by leading her center's to be in the top performing in the nation. Devina believes in lifelong learning and is always looking for ways to give back to the community. She serves as the president elect at SOS and is on the board of the Jones business school at Rice University.
Namrata Sirur: Panelist
Nammy Sirur always felt like a misfit but didn't always have the courage to own it. After spending nearly a decade following a traditional Desi parent-approved career path, she decided to quit her life and reboot. In 2016, she started a YouTube channel (The 9to5 MisFits) with a good friend to talk about unemployment and non-traditional career paths. After making 100 videos in 1.5 years, people took notice and started to hire them for video production. Shortly thereafter, Nammy started MisFit Communications, a video marketing company, along with her partner. Today, she helps clients, ranging from solopreneurs to large corporates, tap into their superpower and appear more human on camera. In addition to making boring things fun through video, she's a content writer, public speaker, Bollywood dance instructor, and fledgling TikToker (though she's pretty sure she's already aged out by using the term "fledgling TikToker").
LinkedIn URL: https://www.linkedin.com/in/namratasirur/