| | |
| --- | --- |
| | |
Event Details

IAC Eitanim is  unique leadership and entrepreneurship project-based program for high school students, that allows them to connect, explore and experience Israel while preparing them for college and developing their professional skills.
The program will introduce high school students to theoretical knowledge and practical tools in order to develop their self-learning skills by using innovative educational tools and hands-on learning methods to strengthen their connection to their Jewish identity, their community and to Israel.
IAC Eitanim develops and strengthens critical skills needed to succeed in college and career, including 
•Research and development
•Complex critical thinking skills
For more information contact  IAC Las Vegas office:
Yarden Adam - 702.786.6700
---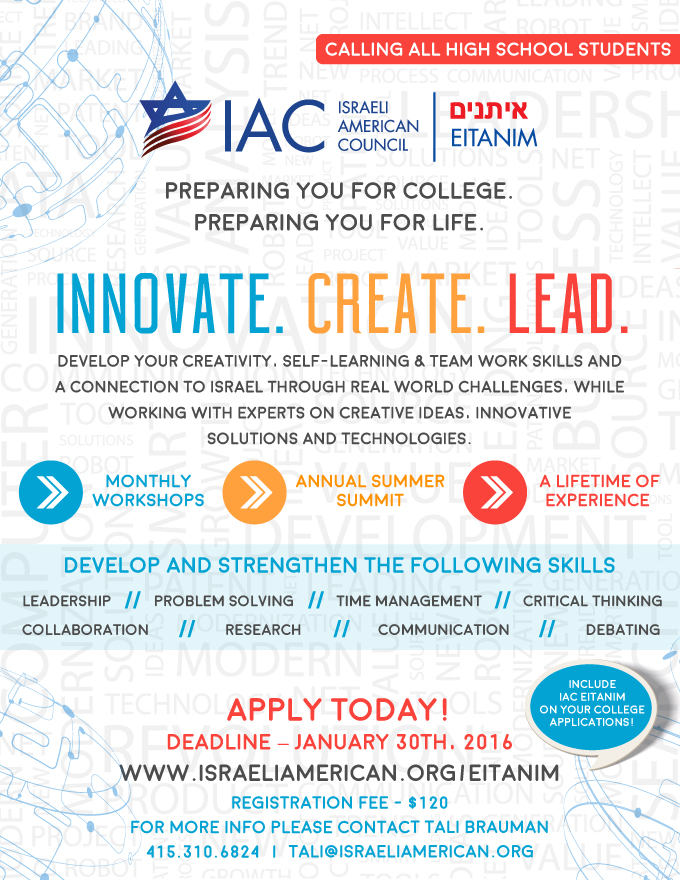 Organizer
IAC San Francisco serves the SF dynamic Israeli-American community through cutting-edge and innovative programs for every age group. Our community building initiatives keep with IAC's mission of bolstering the Israeli-American community to strengthen the Jewish and Israeli identity of the next generation, engage in outreach to the broader Jewish-American community, and support Israel.