Description
If you got accepted to the program already and would like to sign up to the next meetings, please register to make sure you will have a spot (it's $50 for the next five meetings):
Thursday, March 17th, 6-9pm
Sunday, April 10th, 6:30-9:30pm.
Sunday, April 24st, 6:30-9:30pm.
Thursday, May 19th, 6-9pm.
June - TBD
About IAC Eitanim:
IAC Eitanim is unique leadership and entrepreneurship project-based program for high school students, that allows them to connect, explore and experience Israel while preparing them for college and developing their professional skills.
The program will introduce high school students to theoretical knowledge and practical tools in order to develop their self-learning skills by using innovative educational tools and hands-on learning methods to strengthen their connection to their Jewish identity, their community and to Israel.
IAC Eitanim develops and strengthens critical skills needed to succeed in college and career, including
•Research and development
•Complex critical thinking skills
For more information contact
tali@israeliamerican.org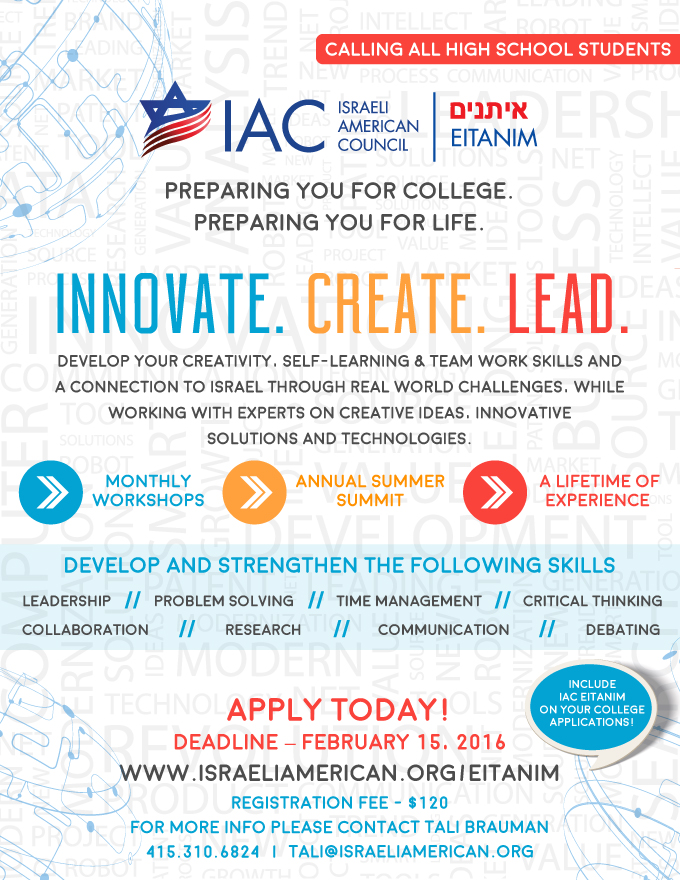 ---