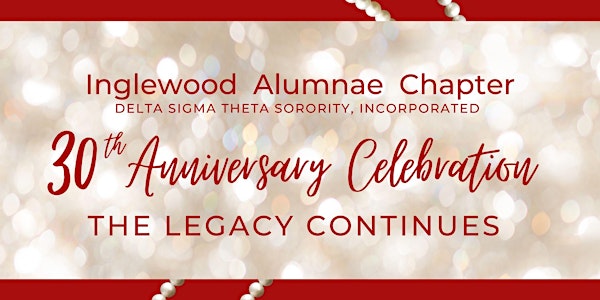 IAC 30th Anniversary Celebration
IAC 30th Anniversary Celebration
By Delta Sigma Theta Sorority, Inc., Inglewood Alumnae Chapter
Date and time
Sunday, April 23 · 1 - 4pm PDT
Location
The CenterPointe Club 6200 Playa Vista Drive Los Angeles, CA 90094
About this event
The Inglewood Alumnae Chapter (IAC) of Delta Sigma Theta Sorority, Incorporated was charted on Friday, April 16, 1993. Now, nearly 30 years later, the chapter will gather on Sunday, April 23 at the Centerpointe Club in Playa Vista to celebrate 30 years of scholarship, sisterhood, service and social action.
You are cordially invited to join us as we highlight the chapters service and impact on the Inglewood community, celebrate the bonds of sisterhood, honor long serving members, and commit to continued growth and community service. In addition to great fellowship, food and entertainment, a highlight of the event will be the awarding of scholarships to deserving high school students who live or attend school in Inglewood. You don't want to miss this event! We are planning a grand affair and look forward to seeing you - our sorors, family, and friends of IAC - there!
To purchase a ticket or commemorative program book ad, click the GET TICKETS button.
About the organizer
Delta Sigma Theta Sorority, Inc. is a, non-profit organization whose purpose is to provide assistance and support through established programs in local communities throughout the world. Founded on January 13, 1913 by twenty-two collegiate women at Howard University, the Sorority is currently a sisterhood of more than 200,000 predominately Black college educated women. This includes over 900 chapters located in the United States, England, Japan (Tokyo and Okinawa), Germany, the Virgin Islands, Bermuda, the Bahamas, and the Republic of Korea.


The major programs of the sorority are based upon the organization's Five-Point Programmatic Thrust:


1. Economic Development
2. Physical and Mental Health
3. Educational Development
4. Political Awareness and Involvement
5. International Awareness and Involvement