Location
University Club of Phoenix
39 East Monte Vista Road
Phoenix, AZ 85004
Description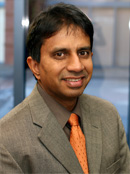 We are supposedly "communicating" using social media, but with all the likes, re-tweets, text chats, instant messages, video responses and check-ins, are we adding more noise than knowledge? How could we who operate in an increasing digital world regain the lost art of thoughtful engagement and dialogue? As communicators, how do we deal with this new web 2.0 world in our organizations? How do we deal with the loss of control of our messaging in an increasingly social world?
During his presentation at the IABC Phoenix February monthly professional development luncheon, Angelo Fernando, veteran communicator and author of Chat Republic, will share his insight from dozens of interviews with and published work by thought leaders at Facebook, Pitch Engine, Ogilvy, the Occupy Wall Street movement, the U.S. State Department, Google, Intel and many more organizations in North America, Asia, Australia and Europe.
Attendees will learn:
How to put social media into perspective with examples from history, including the "fireside chats," diplomacy, street activism and patient communities
What it means to be "social" in today's noisy media-saturated environment and why we need more antennas and fewer amplifiers
Understand what curation, podcasting, crowd sourcing, "media snacking" and civic journalism are all about, and where they might be headed
How to be human 1.0 in a web 2.0 world and why there's a need for a new

breed of storytellers, content curators and community managers
About the speaker:
Angelo Fernando, pictured above, right, has worked in business communication for the past 25 years. Throughout his career he has written about the big shifts in several industries: advertising, marketing, media and education. He has worked for Ogilvy and Mather and JWT, trained in broadcasting at the BBC in London but turned to podcasting. A magazine writer and prolific blogger, Angelo managed social media for Arizona State University and co-hosted a live radio show on business. He is now an elementary school teacher and robotics coach at Salt River Elementary in Scottsdale, Arizona. Chat Republic is his first book, and attendees will have the opportunity to purchase copies at a discounted rate.