I WILL GRADUATE 2019 BACK TO SCHOOL BLOCK PARTY & GIVEAWAY
Description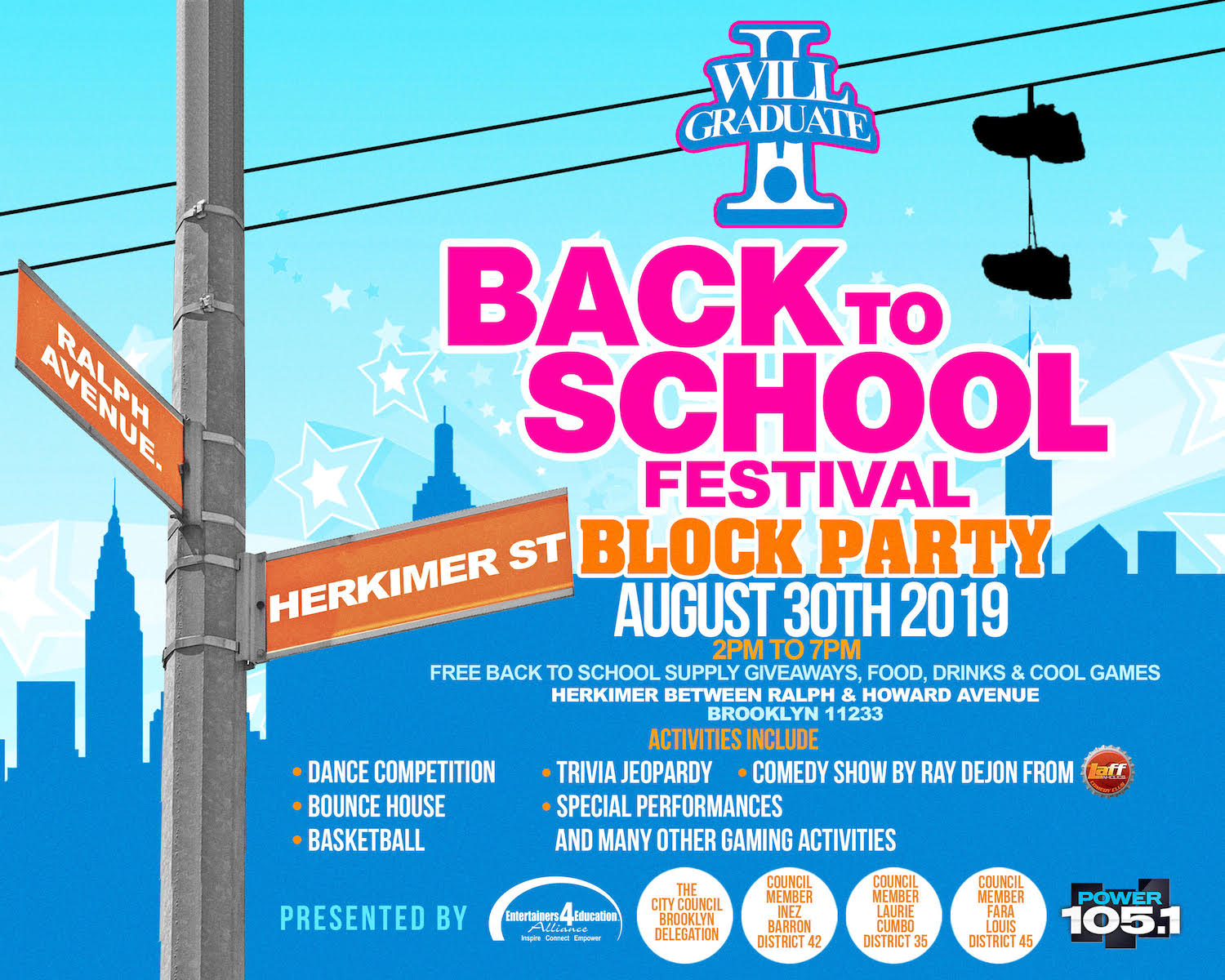 The I WILL GRADUATE Youth Development Program and the Entertainers 4 Education Alliance is hosting a Back to School Yard Party/Giveaway on Friday, August 30th, 2019 from 2-7 pm at P.S. 28 The Warren Prep Academy School Yard located at 1001 Herkimer St. Brooklyn, NY, 11233 Between Ralph Ave & Howard Ave.

We would like to extend this invitation to all your students and parents. Free school supplies will be given to families in the neighborhood. This event is sponsored in part by The Brooklyn Delegation, Council Woman Inez Barron, Laurie Cumbo, and Councilman Farah Louis.
Join us for a fun day of music, entertainment, and interaction with community members. For more information please call the I WILL GRADUATE office at 718-385-3133, ask for Omar Roberts or Jessica Osei.
ABOUT: Entertainers 4 Education Alliance, Inc./ I WILL GRADUATE PROGRAM.

(E4EA) headquartered in New York City, is a 501(c)(3) charity organization that utilizes the power of celebrities, musicians, sports figures, high profile individuals and entertainment to promote positive messages to young people about the importance of education, personal advancement and social commitment. I WILL GRADUATE Youth Development Program is dedicated to serving and empowering students, families and the community by communicating the importance of educational excellence. We accomplish our goals through youth development programs, arts-in-education, college and career guidance, mentoring, parent engagement, school and community workshops, exciting events and the use of multi-media platforms. We enlist the talents, resources of the music and entertainment industry along with prominent high profile individuals to stress the importance and coolness of being educated -

"Smart is the New Cool."
www.iwillgraduateprogram.com