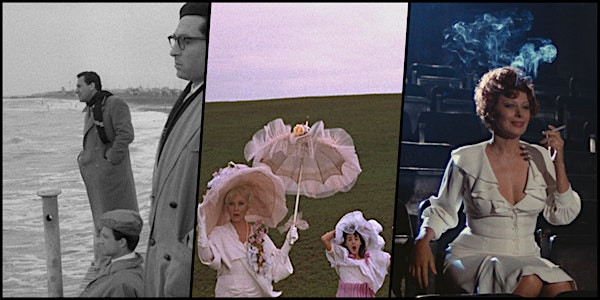 I VITELLONI/JULIET OF THE SPIRITS/AMARCORD (35mm) @ SMC Theater
I VITELLONI/JULIET OF THE SPIRITS/AMARCORD (35mm) @ SMC Theater
Date and time
Saturday, June 24 · 4 - 11:59pm PDT
Location
Secret Movie Club Theater 1917 Bay St 2nd Floor Los Angeles, CA 90021
Refund Policy
Refunds up to 1 day before event
About this event
7 hours 59 minutes

Mobile eTicket
SECRET MOVIE CLUB presents
Part of our FELLINI Series, Saturday, June 24, 2023
LOCATION: The Secret Movie Club Theater, 1917 Bay Street, 2nd Floor, Los Angeles, CA 90021
*Please note entrance/parking is actually in the back of the building. Make a right on Wilson Street, then a right behind the building. We're the first set of black steps after the big gate.
4pm I VITELLONI (1953, dir. Federico Fellini, Janus Films, 108mns, 35mm)
6:15pm JULIET OF THE SPIRITS (1965, dir. Federico Fellini, Janus Films, 137mns, 35mm)
9:20pm AMARCORD (1973, dir. Federico Fellini, Janus Films, 124mns, 35mm)
Tonight we're serving up a fistful of Fellini, all on 35mm.
Our servings tonight have a kind of strange symmetry we hope will provide a fascinating look at the master filmmaker who, maybe more than any other moviemaker, was able to make film miracles out of his own foibles, follies, and flaws with a genuineness and sincerity that was always insightful AND disarming.
First up is often considered Fellini's first true masterpiece I Vitelloni. Vitelloni, which translates as "young calves" and serves as the Italian slang for adult men who haven't quite grown up, follows a group of friends who fit that description in their small Italian beach town across a year. The first of Fellini's thinly veiled autobiographies, the movie is the first time we really see Fellini's formative years in his home town of Rimini, a topic he would return to in our final movie of the night, Amarcord, from the point of view of late middle age when memory and myth would begin to fuse together.
But in I Vitelloni we get both a heartfelt and very unvarnished look at the joys and humiliations of being a young adult in a small town with very little room for ambition. A hilarious movie that is somehow also heartbreaking. An honest movie that is also somehow very life affirming, all the elements of what makes Fellini's cinema supreme and sublime are here. This movie was so influential in fact that George Lucas would use it as the template for American Graffiti and Martin Scorsese would use it as the template (and directly quote it) for Mean Streets.
In a way I Vitelloni started its very own sub genre which filmmakers from Richard Linklater to Greta Gerwig would contribute in ensuing generations.
We follow this with the singular piece of the night, Juliet of the Spirits, which finds Fellini striving to tell the story of his real life wife, the incredible actor Giulietta Masina. Here, Fellini gets out of himself to look at the person to whom it could be argued he was the closest to his entire life: his wife and muse, Giulietta Masina.
In the movie, Fellini's first full length color feature, Masina plays Giulietta Boldrini, the exasperated wife of a philandering husband, who goes on a kaleidoscopic journey into her soul looking at her past, present, future, and inner imaginative life, to try and figure out where to go.
Juliet of the Spirits is one of Fellini's absolute best movies and plays as a kind of female companion piece to his 8 1/2. It's also all kinds of mind and soul bending when one considers that Fellini was essentially making a movie about his wife for his wife to star in about his love and admiration for his wife while at the same time showing just what an absentee dog he, Fellini, could often be.
Fellini's and Masina's life both as collaborators and partners often paralleled that of America's John Cassettes and Gena Rowlands. They deeply loved and admired each other and often produced their best work together yet their personal lives were fraught with all the foibles of the all too frail flesh.
We have a very rare 35mm print of Juliet which provides a once in a lifetime opportunity to experience this classic on film.
We end the night with a return to Fellini looking inward at the very same time period and place as I Vitelloni, his childhood in Rimini. Here we go back even further to Fellini as a teenager during Mussolini's reign and Italy's history under fascism.
Fellini, combining the rigor of his early autobiographical assays with the later period decadent imagination of his 60's and 70's work, produces the Oscar winning film that may be, in many ways, his most purely enjoyable and fun.
Filled with sex, family, religion, friendship, flights of fancy, and spiritual seeking that characterized all of Fellini's work, Amarcord shows us the portrait of the artist as a young lusty earnest teenage boy trying to come to grips with his love of family and Italy while at the same time dealing with a disenchantment with politics and fascism that would lead Fellini to be a lifelong iconoclast.
Come join us for three Fellini classics. On film.
Best always,
Craig Hammill
Secret Movie Club Founder.Programmer
*Please note that though we strive to always show titles on 35mm film if advertised, we may have to screen digitally if the print we receive is in such bad shape or if we don't receive the print in time because of a shipping delay. We will do our best to alert the audience. When this does occur, we will offer each ticket holder who chooses not to attend a complimentary ticket to a future event in exchange. (Disclaimer: Good for 90 days – Future screening must have available tickets, cannot be a fundraiser, and must be comparably priced)
FREQUENTLY ASKED QUESTIONS
REFUNDS:
We can offer refunds up to 24 hours before showtime. Please request a refund through Eventbrite and we will process ASAP. After that, no refunds. Sorry.
However if something last minute comes up and you can't make the screening, for whatever reason, just write to us before showtime: community@secretmovieclub.com and we'll offer you complimentary tickets to a future screening, good for 90 days. (Disclaimer: Future screening must have available tickets, cannot be a fundraiser, and must be comparably priced)
HELPFUL SECRET MOVIE CLUB (1917 Bay Street, 2nd Floor, LA, CA 90021) THEATER PARKING TIPS:
We recommend that you park just outside our theater. Remember our theater is actually in a beautiful street art alleyway in the back of the 1917 Bay Street building. You get to our entrance by taking a right on Wilson, then a right behind the building. We are the first set of black steps on the right after the big gate.
There is also a parking lot at the corner of Mateo and Violet Street, just 2 blocks from our theater, which costs $7 per car.
HOW CAN WE STAY ON TOP OF NEWLY ANNOUNCED 35MM SCREENINGS, EVENTS, ETC?
You can follow us on Instagram/Twitter: @secretmovieclub or Facebook: @secretmovieclub35mm
You can also subscribe to our weekly email newsletter at secretmovieclub.com or by writing to us at community@secretmovieclub.com and using the header "SUBSCRIBE ME TO NEWSLETTER".
HOW CAN I CONTACT YOU IF I HAVE OTHER QUESTIONS/RECOMMENDATIONS:
You can always email us at community@secretmovieclub.com with any other questions, concerns, thoughts, recommendations.
About the organizer
We work to screen great movies (as many on 35mm as possible) in great theaters with a great audience.  Feel free to contact us at: community@secretmovieclub.com