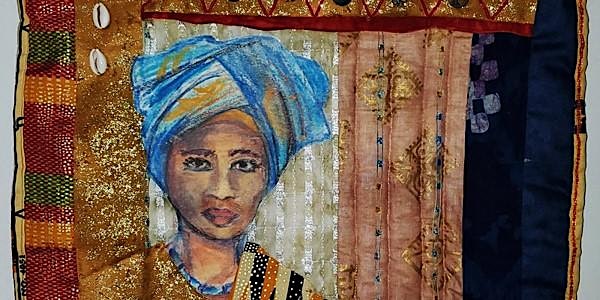 I Tell You My Story, You Tell Me Yours: Stories, Quilts & Poetry Workshop
Artist Christle Rawlins-Jackson will engage participants in celebrating ancestors through storytelling, quiltmaking, and poetry.
When and where
Location
Authentica Art Gallery (on Clemmons Family Farm) 2190 Greenbush Road Charlotte, VT 05445
Refund Policy
Contact the organizer to request a refund.
Eventbrite's fee is nonrefundable.
About this event
Clemmons Family Farm Language, Literature and Lore Workshop Series
I Tell You My Story & You Tell Me Yours: Ancestral Storytelling with Quilt-making and Poetry
Join Artist Christle Rawlins-Jackson as she shares the story of her ancestors who were the Black Loyalists of Nova Scotia, and her experiences in the Slave forts in Ghana, through quilts and poetry. After her presentation, Christle will help participants to create quilt collage postcards and/or short poems that tell their own ancestral stories.
This storytelling workshop is designed for family audiences ages 5 and up.
Registration Costs
$25 per adult
$15 per child
**Family Special
$70 for family of two adults and two children.
Maximum Workshop Attendees 20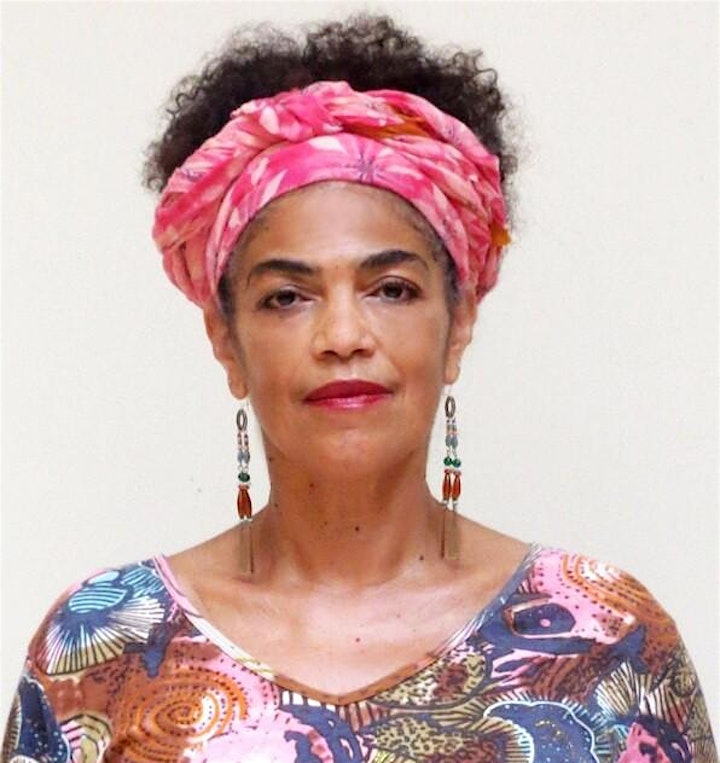 About the Artist
Christle Rawlins-Jackson is a Vermont fiber artist, poet, and graphic designer. Rawlins-Jackson has exhibited her story quilts and performed her poetry throughout New England.
She is co-founder and vice president of Sisters In Stitches Joined By The Cloth- a quilt guild whose mission is to uphold the tradition of African American quiltmaking and to educate the general public about the rich history of people of color and cloth. She is president of The Beacon Hill Scholars- an organization dedicated to the preservation of the history of nineteenth century African American abolitionists who lived and owned businesses on Beacon Hill.
She performed her poem "Cape Coast Castle" at the 2020 Women Musicians Network Concert at the Berklee Performance Center in collaboration with dancer Marianne Harkless and producer/pianist Lucy Holstedt. Her poems were also featured in the award-winning documentary "Black N Black" by Zadi Zokou. The film discusses the relationship between African and African Americans.
Ms. Rawlins-Jackson's work is greatly influenced by her life and work in Ghana, West Africa and by her research into her ancestors–the Black Loyalists of Nova Scotia- as well as the Nipmuc people of Massachusetts. She is a member of the Vermont African-American/African Diaspora Artists' Network (VAAADAN).
************************************************
FAQs
Why Are We Doing This?
An important part of Clemmons Family Farm's mission is to build community across differences of race and culture, and to create a shared love and sense of place for the historic Clemmons farm-- one of the 0.4% of farms in the nation that remain African-American owned.
We also strive to help more Vermonters learn about African-American history, art, and culture, and to experience the joy of connecting and co-creating with Vermont's artists of African descent. This ancestral storytelling workshop for families is one of the many ways we can achieve these goals.
COVID-19 precautions:
1. You must be fully vaccinated against COVID-19 to participate. Masks are encouraged: optional outdoors, but mandatory inside of the Authentica gallery. This is an outdoor activity, but we will be inside if there is inclement weather.
2. If you are ill, not feeling well, have a fever or a cough, please stay home and take care of yourself!
3. Outdoor portalets will be available for registered participants.
4. Maximum participants: 25
Will children enjoy this?
Yes they will! Children 5 years old and older will learn and have fun in this workshop with Ms. Christle Rawlins-Jackson.
What Should I Bring?
1. Sunglasses, hats, sunscreen, hand sanitizer.
2. Insect repellant (for ticks, mosquitos, or other insects you might encounter).
3. Comfortable clothes.
4. Drinking water or another cold beverage.
5. A relaxed attitude- this program is very low-key.
6. PLEASE take away what you bring (do not leave trash on the farm!).
Registrants do not have to supply any materials. Workshop materials will be provided by the Artist and Clemmons Family Farm.
This event is scheduled for outdoors at the Authentica Gallery. Activities will be shifted inside if there is inclement weather.
Outdoors means insects!
This is an outdoor program on a working farm. Be aware that there may be ticks, mosquitos, ants, bees, and other insects. Please bring some insect spray with you!
Where do I park?
Parking is located on the lawns right at the entrance of 2213 Greenbush Road- you will see "Event Parking" signs indicating the areas where you can park. You will then walk north across the street on Greenbush Road over to 2190 Greenbush to the Authentica Gallery, diagonally across from the parking lot.
Accessibility: Please let us know if you have difficulty walking- we are reserving parking for you right in front of the Authentica Gallery, 2190 Greenbush Road. Email clemmonsfamilyfarm@gmail.com or call (765) 560-5445 and leave a message.
Where can I make a donation?
Please check our webpage here for information on how to donate to the 501c3 nonprofit organization Clemmons Family Farm, Inc. that stewards the historic Clemmons farm. Visit: https://www.clemmonsfamilyfarm.org/please-donate.html
Admission policy
Advance registration is required and your name must be on the registration list in order to be admitted. Only 10 attendees per workshop will be admitted to enable us to offer quality interactions and a safe, low-key, and family-friendly environment. Clemmons Family Farm reserves the right to refuse admission or eject, at our sole discretion, any person behaving dangerously or inappropriately, or for safety and health reasons.
By attending this Event, You agree that visual/audio recordings of the Event, including your voice and likeness, may be used for any purpose on a worldwide basis, in perpetuity, without any compensation to You.
Clemmons Family Farm shall not be responsible or liable for any loss, damage, cost, or injury that arises from, or in connection with, Your attendance at this Event.
Smoking
The Clemmons farm is a smoke-free environment- both indoors and outdoors.
Weapons
The safety and well-being of our visitors, artists, and staff are of the utmost importance. To ensure a safe venue for all, the possession of firearms, fireworks, explosives, incendiary devices, knives, or weapons of any kind is prohibited on the Clemmons farm property and in the farm's facilities, except those carried by law enforcement officers who are on duty. All visitors to the farm, and their belongings, such as bags or purses, are subject to search and enforcement, and anyone found in violation will be asked to secure the weapon inside their vehicle or at home or leave the property immediately. No ticket returns, refunds, or exchanges will be made for people found in violation of the Clemmons Family Farm's weapons ban.
How can I contact the organizer with any questions?
Please contact us if you have any questions about the event. Email clemmonsfamilyfarm@gmail.com or call (765) 560-5445 and leave a message.
***************************************
About the Clemmons Family Farm: Preserve, Empower, Build
Did you know that over the past century, African-Americans have lost 93% of their land assets: from a combined total of 44 million acres in the 1920's to just 3.5 million acres today?
According to the 2012 United States agriculture census, of the more than 7000 farms in Vermont, only about 17 are African-American-owned or operated.
The Clemmons farm is among the just 0.4% of all farms in the United States that remain African American owned.
Located in Charlotte near beautiful Lake Champlain, the historic Clemmons farm is ​one of the largest African-American-owned historic farms in Vermont today. The farm includes 6 historic buildings (circa late 1700s-1800s), a spacious 1990's residence, and 148 acres of prime farmland and forests, ponds and streams abundant with wildlife.
99-year-old Jackson and Lydia Clemmons purchased their beloved historic farm in 1962 for $35,000- an astronomical amount of money for a young African-American couple just starting their careers- under a 30-year mortgage. They have never sold a single acre due to their firm belief in land as an important asset for African-Americans to build equity and legacy.
In 2019, a group of Clemmons family members, friends and advisers co-founded the 501c3 nonprofit organization- Clemmons Family Farm, Inc.- to preserve and steward the farm under a 20-year lease and to continue the community-building work, farming, and celebration of African-American history, art and culture, that Jack and Lydia led on their farm for nearly 60 years.
This storytelling, poetry and quilting workshop is closely tied to our organizational mission to:
PRESERVE the 148-acre Clemmons farm as a Black-owned land and cultural heritage asset and a historic site of national importance.
EMPOWER a growing network of Vermont's Black artists and culture bearers with opportunities for professional development, advocacy, visibility, networking, paid engagements, collective healing, and a safe haven for creativity that helps them to thrive.
BUILD a loving multicultural community around African-American/African diaspora history, arts and culture.