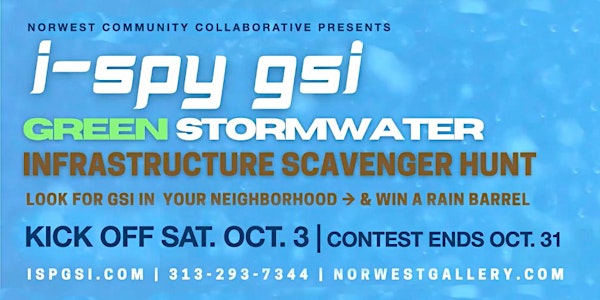 I-SPI GSI City Wide Scaventure Hunt
I-SPY GSI is a cellphone photography scavenger hunt for Green Stormwater Infrastructures in your neighborhood.
When and where
Location
Norwest Gallery of Art 19556 Grand River Ave Detroit, MI 48223
About this event
I-SPY GSI is an ongoing activity for anyone in the City of Detroit this fall. Take pictures of GSI (Green Stormwater Infrastructure) sites around the City of Detroit to win a free rain barrel!
Kick Off: Saturday, October 3 at 12 pm
Contest ends October 31, 2020
Multiple entries of different sites are encouraged.
These sites can be found right in your neighborhood, or at a recently renovated park nearby. We will also give you a list of locations to help you out. However, finding your own will get you more points.
Learn how to identify Green Stormwater Infrastructures in your community, and how it can save you money on your water bill.
This is perfect for couples, friends, and families looking for social distancing activities. It's fun and educational 🙂
Learn more about what GSI is here:
https://www.ispygsi.com/