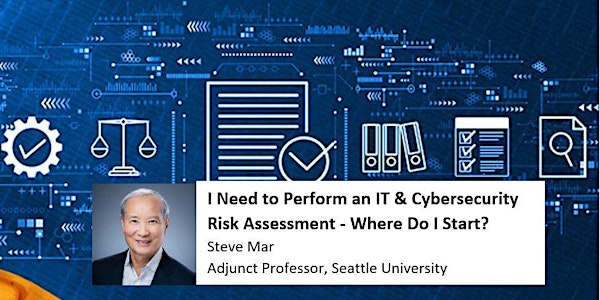 I Need To Perform An IT & Cybersecurity Risk Assessment - Where Do I Start?
We'll dive into several IT & Cybersecurity risk assessment frameworks and engage in identifying the pros and cons of different assessments.
About this event
Presenter: Steve Mar (CISA, CFSA), Adjunct Professor, Seattle University
Event Type: Chapter/Luncheon Meetings
Date: Thursday, September 29, 2022
Time: 12:00pm - 1:00pm PT
Location: Virtual Meeting
Pricing: Members - Free; Non-members - $20
Instructional delivery method: Online
CPE credit(s): 1.0 hours
Advanced preparation: None required
Event Details:
A CEO of a startup tech company contacted me a few weeks ago in a panic: "I got some good news and some terrible news." We won a major contract to perform financial and accounting information for a major client. They want us to start in a few weeks. The bad news, they want to see if we are Consensus Assessment Initiative Questionnaire (CAIQ) for Cloud Computing compliant. What can we do to answer all "yes" to the 261 questions in CAIQ Version 4.0? How can we make this happen in a few days? We risk losing the major contract. Can we use another risk assessment?
Join us to dive into several IT and Cybersecurity risk assessment frameworks. We will look at the difference between the IT and Cybersecurity risk assessments and other risk assessments. Review several major IT and Cybersecurity related risk assessment frameworks. Engage in identifying the pros and cons of different risk assessments. Discuss and share action steps to take.
Speaker Bio:
Steve teaches IT Audit and Audit Data Analytics at Seattle University part-time and also serves part-time as a Director focused on IT Audit and Cybersecurity consulting at IntrapriseTechKnowlogies (ITK), Honolulu. Steve serves currently on the local Seattle IIA and ISACA Puget Sound Chapter boards. He previously worked primarily in IT Audit, Audit Data Analytics, and Cybersecurity at Nordstrom, RGP, Microsoft, Deloitte, KPMG, and Bank of America. In 2000 he participated in the White House "National Plan for Information Systems Protection."
Steve also serves as the Editor for the ITAudit Column, Internal Audit Magazine published by the IIA. He published "So, what do you do on Day One as an IT Auditor?" in EDPACS Magazine in March 2020 and also wrote "The Single Point of Failure" in the May 2019 IT Audit Column which received the Ted Keys Award for the Most Outstanding Article. Steve won the Ted Keys Award again in June 2021 for an article: "The Aftermath of SolarWinds." He also wrote select chapters in The Internal Auditing: Assurance and Advisory Services, a 5th Edition textbook published by the IIA in June 2022. Steve speaks on Audit Data Analytics and IT Audit topics and previously served on the IIA International Research Committee. Steve received his undergraduate degree from the University of Washington and his master's degree from Seattle University.
Refund Policy: Refunds up to 1 day before event
Consent for Photos, Audio and Video Recordings Taken at Events or for Marketing Purposes:
By attending this event I agree irrevocably and free of charge that ISACA or any third party who is acting on ISACA's behalf may create images, videos and/or sound recordings of me ("works") at the event for marketing and/or educational purposes. For these purposes, the granting of rights in the works also includes the rights to adapt, reproduce, distribute, perform, making available to the public, broadcast, retransmit or sublicense the works to ISACA's affiliates. The granting of rights in the works also includes all current and future media, goes beyond the repetition of an event and is not restricted to time or territory.
View ISACA Puget Sound Chapter's Privacy Policy >>
https://engage.isaca.org/pugetsoundchapter/privacypolicy
For more information on this topic and our speakers, please see our website at https://engage.isaca.org/pugetsoundchapter/home