Description
Friday April 26th _ 9pm - 2am
I ♥️The 90's - Kickoff Party
Lions Pride - 123 W.Church St (Downtown Orlando)
The Injury Assistance Law Firm of
Michael A. Mills Present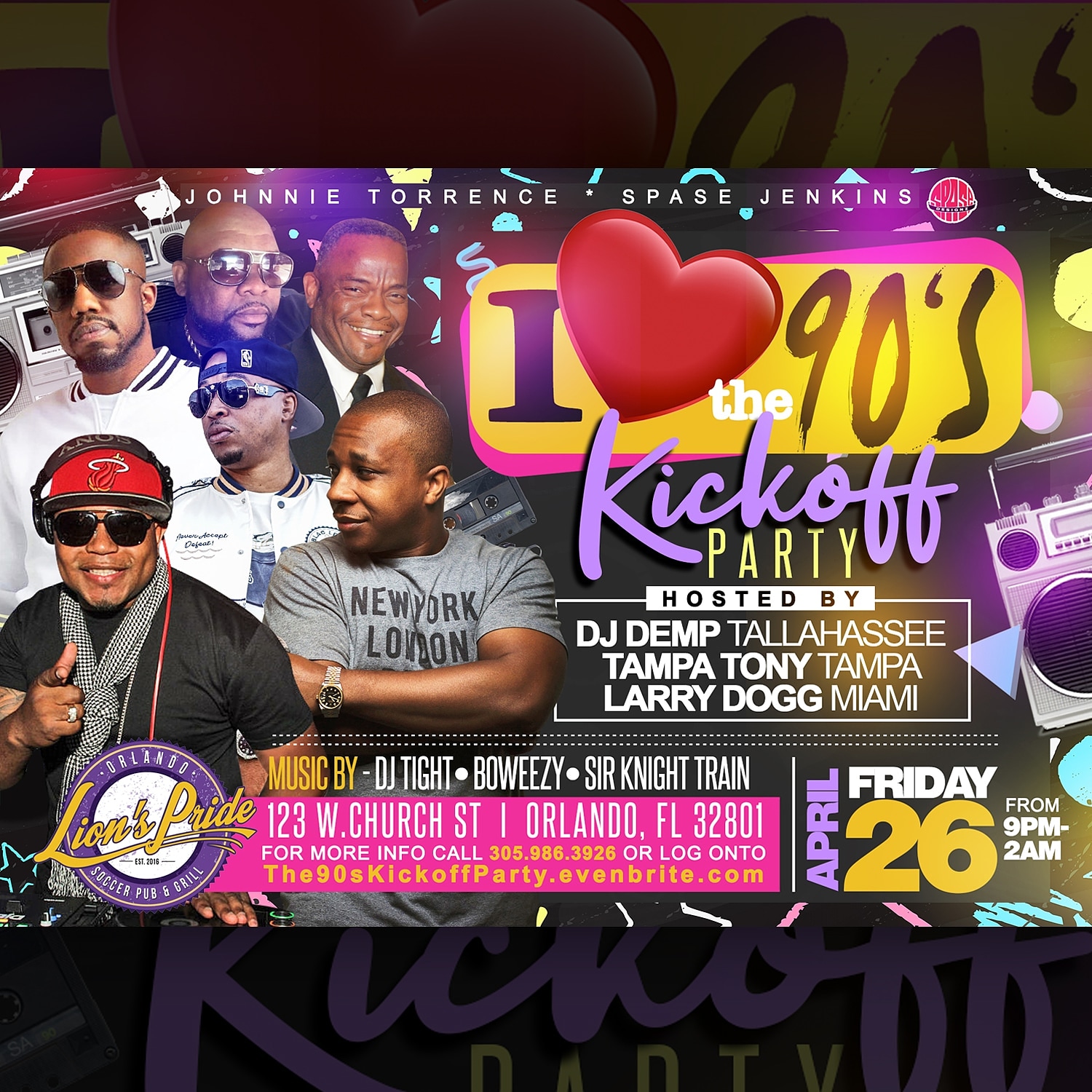 Johnnie Torrence * Spase Jenkins
***UPDATE - Its Finally Here and THIS FRIDAY WE ABOUT TO PARTY PARTY !!!! We cannot THANK YOU enough for your overwhelming SUPPORT!! Orlando, Miami, Tampa, Jacksonville, Tallahassee, Daytona, St. Pete, Gainsville and even Atlanta has checked in... We cant wait to see everybody. SAFE TRAVELS on the Road!!
**ONLY 2 VIP COUCHES Remain, **ONLY 2 Second level VIP Tables and **2 Lower level VIP tables remain!! ...Lock your Table & Bottles in NOW!! *** Due to the overwhelming response, early arrival is suggested. For any further questions please call 305.986.3926
Blessings+
It's FunkFest weekend, and we are kicking it off at the cozy Lions Pride Lounge located at 123 W.Church St. (in the heart of Downtown Orlando). This spacious 2 story venue boasts 3 full bars, upstairs VIP area and full kitchen. We will have Drink Specials all night for LADIES and Bottle Specials for the FELLAS!!
Playing nothing but the best in R&B and Hip Hop all night, we guarantee to keep you on the dance floor having a GOOD TIME and NOT looking down at your phone..(Or your money back)
The music will be provided by some of the HOTTEST DJ's in the STATE !!!!
* Miami's own "DJ TIGHT",
* The Crowd Pleaser "DJ BO WEEZY" and
* Orlando's own "Sir Knight Train" !!!
The party will be hosted by:
* The Tallahasse Legend "DJ DEMP",
* Tampa's own "TAMPA TONY" and
* Miami's own legendary comedian
"LARRY DOGG" !!!
__________________________________________________________________
It will be a Legendary Night of Good Food, Good Music and Good Vibes ONLY !!
Secure your VIP section NOW...
- Dress Code is Relaxed but Clean
- NO REFUNDS
- 21 and Over
For any further questions call 305.986.3926
Blessings+
Have you been injured in a car accident or slip and fall? Call the trusted Attorneys at the Law Firm of Michael A. Mills TODAY!!
321.234.2900