Description
I have an MVP, now what? Using Lean UX, Agile, and DevOps to build the features your customers want NOW!
So you just launched your MVP? Maybe you used Lean Startup or Design Thinking to make sure you delivered something your customers wanted. Perhaps not. Now that you have a customer base, they don't want to wait forever for the next feature. Your designers want to make sure you deliver the features that meet your customers' needs, but that takes time. Your development team wants to "sprint." Your stakeholders want to see a return on investment. Does any of this sound familiar?
In this session, you will learn how Lean UX, Agile and DevOps can be combined help you deliver the features your customers want when they want them by creating a continuous system of Discovery, Delivery and Customer Feedback. I will show you how to create alignment, transparency, and speed. No matter what framework, whether you one team or 100, this talk is for anyone wanting to create a cycle of learning. Also, I will show some practical tools such as using a Design Playbook, Feature Forecasting and Visual Management of Large Programs.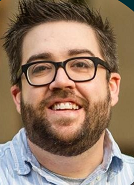 Bio: Dean Chanter is a LEAN/AGILE COACH at Capital One, helping teams use agile and data to meet their goals and continuously improve.