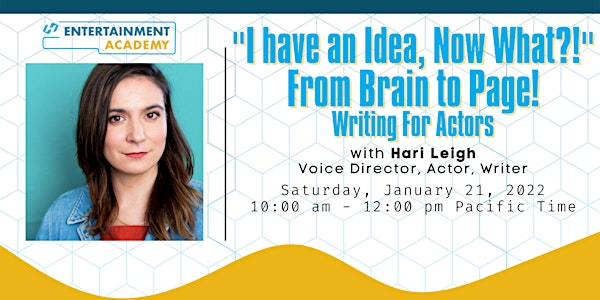 "I have an Idea, Now What" From Brain to Page! Writing For Actors
Hari will teach you the basics of story structure, character development and how to exercise your writing muscles as an actor
Refund Policy
Contact the organizer to request a refund.
Eventbrite's fee is nonrefundable.
About this event
Writing is a natural outlet for actors to explore their ideas, characters, and take control of what projects they may want to create to give themselves opportunities to grow. Having an idea is the first step but what can you do with that idea, how can you best translate it onto the page to create a story that you may want to sell, shoot or find a writer to help it evolve.
Hari Leigh has written shorts, features, and episodic television and used her writing talent to further her creative endeavors as both an actor and a director. In this course she will teach you the basics of story structure, character development and how and why to exercise your writing muscles as an actor.
About Hari:
Hari Leigh is a voice and motion capture director, casting director, and actor. Working alongside Julia Bianco Schoeffling, Hari has cast AAA games for many of the leading companies including Xbox, Insomniac, Riot and more. She directed the facial capture for WWE2K22 released in April '22. And recently wrapped a confidential AAA game as voice director. She loves working with actors and helping them achieve their goals.
CLASS MATERIALS
Materials provided in these classes (such as sides, copy, worksheets, videos, etc.) are for educational/workshop purposes only. They are confidential and are NOT to be distributed outside of this workshop (including, but not limited to, email, social media, Discord servers, etc.) nor permitted to be used as voice demo material unless otherwise stated.
RECORDING POLICY
Classes, workshops, and webinars by The Halp Network, LLC. are recorded for archival purposes. Free events may be posted to our social media channels at a later date. Students of a paid course may receive access to the recording of their class for the student's own use ONLY.
CANCELLATION & POLICIES
All sales are final and non-transferable. If you're unable to attend after purchasing, please contact us at classes@halpnet.com.
Although in this workshop you may be in the presence of an industry professional, workshops and classes offered by The Halp Network, LLC are not an opportunity for or a guarantee of employment. This workshop is for educational purposes only and is not an opportunity to get cast, audition, be pre-screened for possible future auditions, be considered for employment, or interview for a job or role. This workshop is a learning experience. It is not an audition or employment opportunity. When the workshop is over, the casting director or associate or assistant director teaching this workshop will not be taking home nor be given access to your headshot, resume, or any of your other promotional materials.
It is the intent of The Halp Network, LLC and workshop or class participants to comply fully with all laws and regulations relating to events of this type. Please see our Legal Notices for additional information about our workshops.