"I HAVE 2020 VISION" - Fearless Faith Women's Retreat & 2020 Vision Fair
You DO NOT want to miss this! It will be 2 powerful days of inspiration, information, vision casting, faith, and fellowship!
About this Event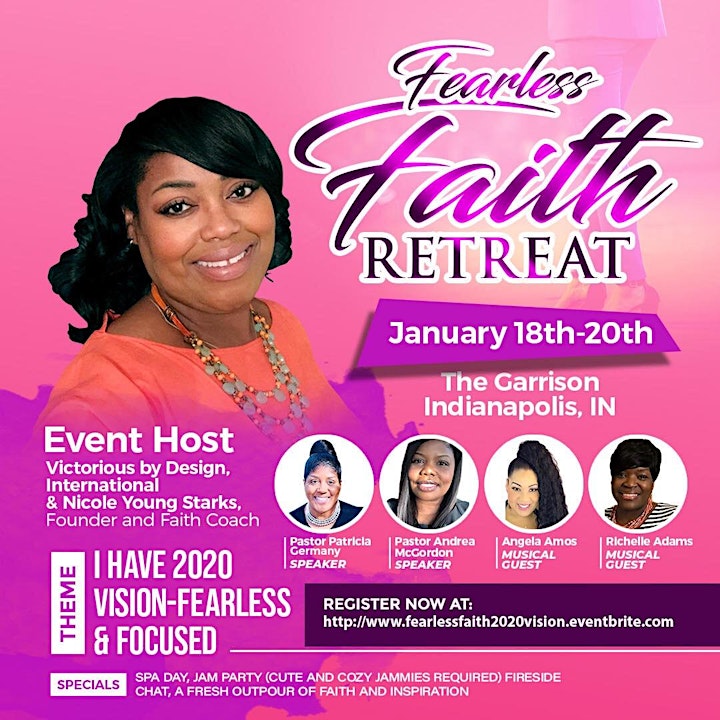 Dr. Martin Luther King had a dream, but Mrs. Coretta Scott King had a vision. Ladies from all points of Indiana and beyond will meet to refocus and actualize their visions.
There will be strategic workshops, time for intentional rest, informative workshops, and engaging activities to recharge your vision and maximize your life in 2020.
You cannot afford to miss it-Register TODAY!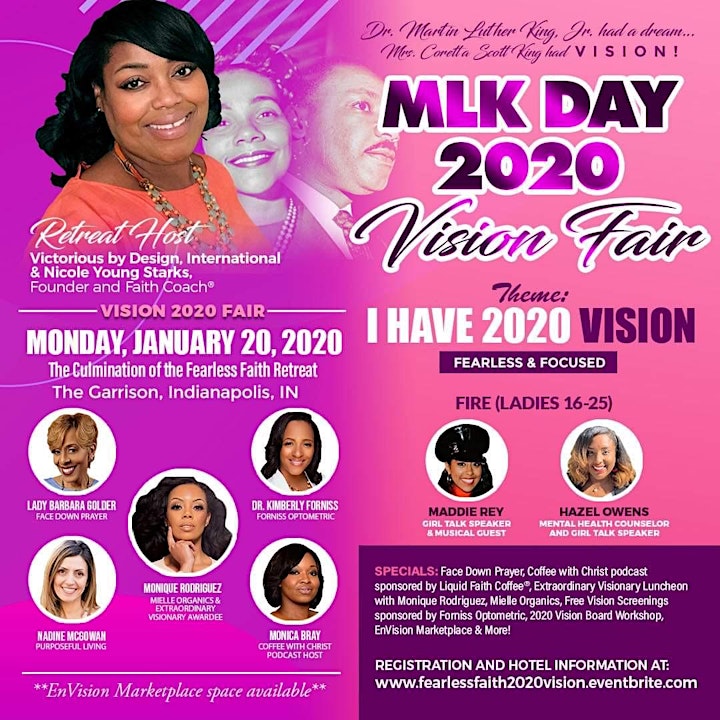 SCHEDULE -Revised 1/20/20
SATURDAY, January 18th
6 p.m. Registration
7 p.m. JAM Party (food, fellowship, fun, fireside chat)
SUNDAY -Soul Sunday
(General Admission-donation suggested)
5 p.m. Worship Service, Live ministry in music, Sermons
Angela Amos and Richelle Adams -Ministry in Music
Pastor Andrea Mc Gordon-Speaker
MONDAY-MLK Day 2020 Vision Fair
8 a.m. Sunrise Face Down Prayer with Lady Barbara Golder
9 a.m. Light Breakfast/Vendors Open
10 a.m. The Purpose of Vision, Nadine Rodriguez
11:00 a. m. General Session & Live Podcast with Dr. Kimberly Forniss & Monica Bray
11:45 Live Musical Performance with Recording Artist Maddie Rey
12:00 noon Lunch
1:00 pm Extraordinary Visionary Program with MIELLE Organics' Monique Rodriguez
2 p.m. General Session with Pastor Patricia Germany
3 p.m. Closing Session
4 p.m. Vendors Close
FIRE (For girls and young ladies, ages 16-21)
MONDAY -MLK Day 2020 Vision Fair
10 a.m. Girl Talk with Hazel Owens
12 p.m. Lunch
2 p.m. Girl Talk with Maddie Rey