I Hate Hamlet ~ Bay Area Stage Productions

Multiple Dates
Event Details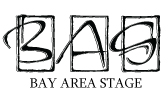 Bay Area Stage Productions presents -
I Hate Hamlet
• Where:
The Fetterly Playhouse
3467 Sonoma Blvd
Vallejo, CA 94590
• Directions:
Playhouse is behind 'Seafood City' in 'Redwood Shopping Plaza'. Enter parking lot from Redwood Street. Drive toward Seafood City. Make a right in front of Seafood City. Drive to corner where you will see the sign for The Fetterly Center. Turn left and look for large sign for the Fetterly Playhouse down the alley. Please do not hesitate to call me on my cell for directions: Jeff - (707) 561-1960.

• Performance Dates & Times:
July 8,9,10 & 16,17 &23,24 (Curtain at 8pm)
July 11, 18, 25 (Sunday matinee: Curtain at 4pm)
• Payment Methods:
1) Online Eventbrite
2) Cash at door
3) Check at door (or mail to):
Bay Area Stage Productions
536 Lighthouse Dr.
Vallejo, CA 94590
(Please make all checks payable to: Bay Area Stage Productions)
NOTE: There are NO service charges on payments made by cash or check at door.
• Ticket Prices for cash or checks:
General Admission - $15.00
Student/Military/Senior - $12.00
Cabaret table for 4!! Includes wine, crackers & cheese platter - $100.00
$2 Preview!! Thursday, July 8th is only Two Dollars!! - $2.00
• Reservations are NOT REQUIRED for I Hate Hamlet.
• Contact: (707) 649-1053
email: director@bayareastage.org
Visit us on the web:
http://www.bayareastage.org
I HATE HAMLET:

A television actor whose series has just been canceled, Andrew Rally is in New York to perform the title role of Hamlet--a role he doesn't want in a play he doesn't like. A flaky real estate agent who claims to have psychic powers talks him into renting the former apartment of long-dead John Barrymore, one of the most acclaimed Hamlets of his generation; needless to say, an impromptu seance seems to vent forth the ghost of Barrymore himself, who comes to make sure that Andrew does the role, like it or not.

There is, of course, a little bit more to it than that, and the plot also concerns Andrew's eccentric (and chain smoking) agent; his determinedly virginal girl friend; and an ultra-California producer type who wants to see Andrew take the easy television and run instead of striving for 'art' in New York.
Add in swordplay, Barrymore's infamous lechery, and a host of complications and the result is a swash-buckling funfest for the entire family!
Where

The Fetterly Playhouse
3467 Sonoma Blvd
Vallejo, CA 94590


Multiple Dates
Add to my calendar
Organizer
Bay Area Stage Productions
Bay Area Stage Productions celebrates the essential power of the theatre to illuminate our common humanity. We entertain, educate and enrich the culture of our diverse community, train and support the next generation of theatre artists, and provide arts education to inspire life-long learning.
I Hate Hamlet ~ Bay Area Stage Productions