I GOT THE LAST LAUGH! (Inspired By The Life And Times Of Jackie "MOMS" Mabley) by James E.Carter

Saturday, July 1, 2017 from 4:00 PM to 5:30 PM (EDT)
Event Details
I GOT THE LAST LAUGH!
(Inspired By The Life and Times Of Jackie "MOMS" Mabley)
by James E.Carter
SYNOPSIS :
When Charles Earthstein, who works for The Chicago News and M&M Publications, goes to Harlem's World Famous Apollo Theatre in New York City to interview the one and only Jackie "Moms" Mabley, We see and hear of her life, reveals some of her personal hopes, dreams, betrayals, despairs, fame and most importantly, her struggles to become America #1 comedian and "The Funniest Woman in the World!"  Viewers will experience her life through flashbacks of performances and the telling of her-story from her birth in 1884 until her death in 1975.
This imaginative and semi-autobiographical comedy/drama, I GOT THE LAST LAUGH is a play about being honest and true to yourself and to others; about not being afraid of whom you are. It is breathtakingly honest, funny, phenomenal and important piece of American history. It will make you laugh, make you cry, make you think, make you love who you are, as you cheer on "Moms" spirit and maybe renew your own. This is a new and original piece of theatre that lets you see, hear and feel what Jackie "Moms" Mabley was really all about.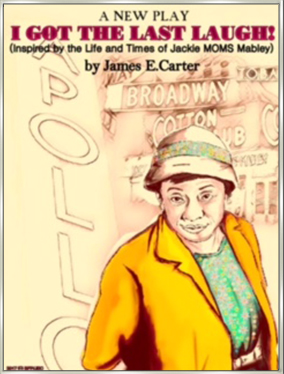 When & Where

Smithsonian Anacostia Community Museum
1901 Fort Pl SE
Washington, DC 20020


Saturday, July 1, 2017 from 4:00 PM to 5:30 PM (EDT)
Add to my calendar