Event Information
Location
I FEEL Retreat in the Catskill Mountains
Exact Location TBA | NY 12442
12442
Description
3 Days of Art, Music and celebration of life as a community!
Beautiful Feelers!
We couldn't be more excited to celebrate with you on a Feeler Family Retreat during 'Peak' Foliage!
We will takeover a Magical Retreat Center nestled in the catskills for three days of amazing music, art, nature, camp fire, yoga, meditation, indoor pool parties, cuddling and fun activities at our own I FEEL retreat with your favorite people!

♡ The location ♡
A majestic & intimate upscale retreat center nestled in the foothills of Hunter Mountain, just 2hrs from New York City. The retreat is set on 15 beautiful acres and features a private indoor heated pool, campfire, gathering hall, yoga studio, heated all inclusive rooms, dining hall, magical forest, waterfall and miles of hiking trails!
It will be intimate & Capacity is very limited!
♡ FAQ:
How does the room/bed fee work and what does it include?
There are two accommodation options:
1. Renting a private room with two double beds that can fit up to 4 people (One person is responsible for renting a room for the weekend)
2. Renting a bed in a shared room (the shared loft style rooms can accomodate up to 6 people). For special placement requests please email info@ifeel.nyc
Each room has bathrooms, heat, and a shower w/hot water. It also includes pillows/ linens / blankets/ towels (we highly reccomend on bringing extra towels for the pool). The fee is for 2 nights for a room only (does not include admission to the event).
* Renting a room DOES NOT grant admission to the event, you will need to purchase both general admission ticket and a room/ bed separately.

Our crew is 6 people and we want to secure our own loft, what do we need to do?
Each loft has two floors, and includes two double beds, two twin beds, a bathroom. If you're interested in securing an entire loft for your crew, one person will need to purchase TWO "Twin bed in a shared loft style room" tickets and TWO "Double bed in a shared loft style room" tickets.

Is it BYOB?
Yes, it is BYOB :)

What's included in the GA ticket?
GA ticket includes: Festive Dinner on Saturday, access to the entire facility, heated indoor pool, camp fire, parties,yoga, meditation, black light pool parties, workshops and so much more!
GA ticket does not include a bed or a room. A bed or a room should be purchased separately.
Will there be a direct bus from the city to the location?
Due to the intimacy of the event there will be no direct bus, but if coming with your own car / carpool won't work for you, public transportation will be easy as the location is right near the infamous Hunter Mountain.

Should I bring a towel?
Bath towels will be provided for showers, but YES please bring a towel for the pool.

Do I need to bring sheets?
No you will not, clean sheets will be provided.

Tell me about the kitchen?
The kitchen is industrial. Big stoves, working areas, walk in fridge and freezer. You'll just need to bring your own everything and cook together with your friends :)

Is it true? Will there be an indoor heated pool?
Yes Yes Yes! :) :) :)

Can I bring my kids?
This event is +21 and no kids will be allowed

What time is check out on sunday?
Check out is at 4pm, please leave your room clean.

Should I Sleep on securing my tickets?
NO! Capacity is extremly limited and it's going to be intimate. If you'd like to join we would reccomend on acting fast.

Are there power outlets in the room?
Yes, there are power outlets.
How do I get there by public transportation?
Trailways bus from Port Authority -> Hunter, NY
1800-858-8555 | https://trailwaysny.com
Then when arriving Hunter, the bus will drop you one mile away from the location so you can order a taxi by calling: 518-589-6530

How do I get there?
If you don't have a car, we highly reccomend on car pooling with friends. We encourage everyone who's coming with a car to go here and find companion Feeler riders wholl make your trip much nicer :)

What to bring?
- Food & Cookware:
1 Festive Dinner will be provided on Saturday and is included in the ticket.
We have a big industrial kitchen that you will have access to cook, you are more than welcome to cook together with friends, communal cooking is fun!
- WARM CLOTHES! The event is indoors but there will be a campfire outdoors.
- bathing suit, flip flops.
- Shower kit: toothbrush, shampoo, soap, towel, etc.
- BYOB + Ice for your drinks.
- Hula Hoop / flow toys/ props/ glow!
- Your favorite costumes.
- Guitar or other acoustic instruments.
- Decorations for your room.
- An item which represents something you would like to let go of
- We encourage gifting, share your gifts with your fellow Feelers!
Bring your positive and communal Feeler vibe!
* If you FEEL like you really want to camp in the freezing cold and absolutely not interested in a room, email us to info@ifeel.nyc and we will check how we can help out!

Much love, hugs and all the FEELs!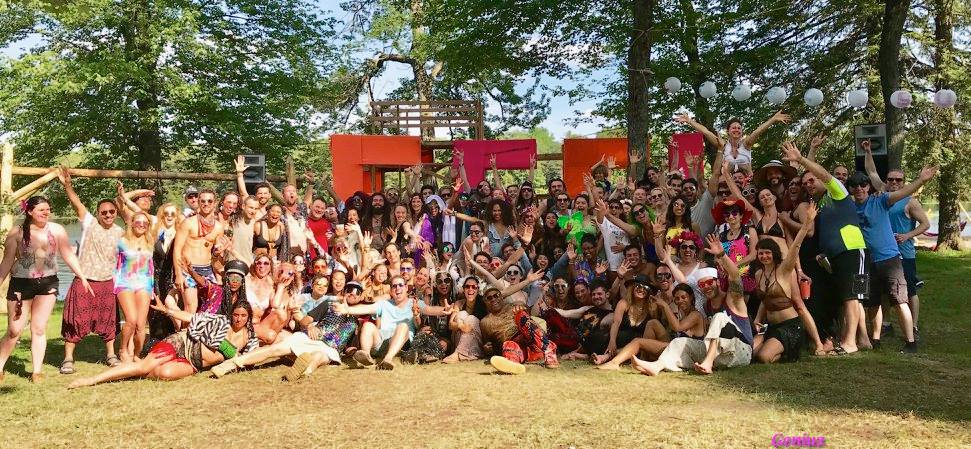 ♥ ♥ ♥
* All sales are final - No refunds *
Date and Time
Location
I FEEL Retreat in the Catskill Mountains
Exact Location TBA | NY 12442
12442
Refund Policy