I FEEL... HEROES OF THE UNDERGROUND 10.18
When and where
Location
Secret Location - Brooklyn
Refund Policy
Contact the organizer to request a refund.
Description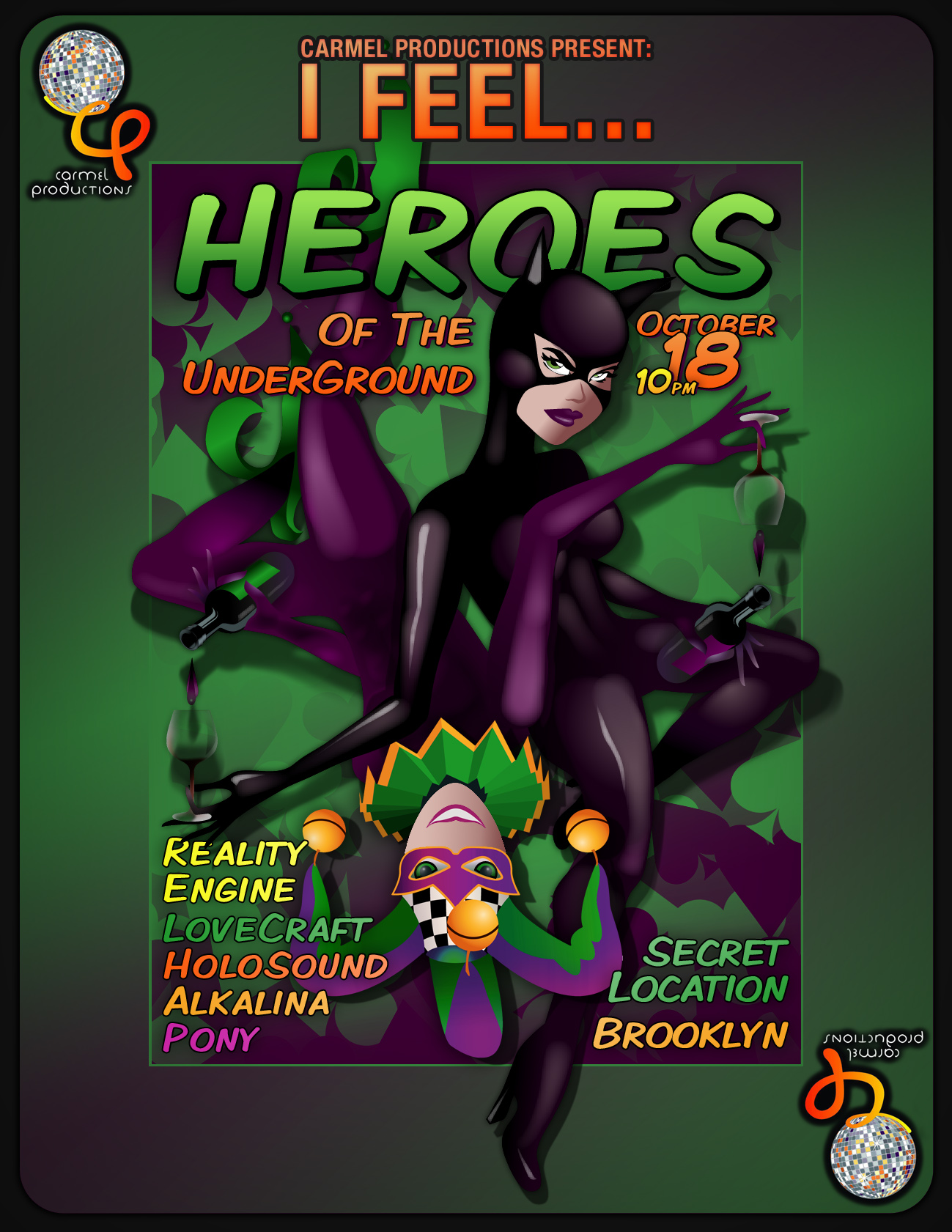 Facebook Event:https://www.facebook.com/events/163448247192921/
CARMEL PRODUCTIONS PRESENT:
I FEEL... HEROES OF THE UNDERGROUND, OCTOBER 18, 10pm-6am
On October 18 we will take a beautiful warehouse space and transform it into something incredible. Here you will enjoy a surround sound system, art installations, 270 degrees of visual projections, art cars, creative costumes and groovy, sexy, warm music!
Dreamy Timeless sounds by:
REALITY ENGINE [Sea to Sun Recordings]
LOVECRAFT aka Mike Fisher [No.19 Music]
HOLOSOUND [Pulse Radio/ Playperview/ Glasgow Underground]
ALKALINA [Audiolism]
PONY | Resident [Disorient/ Digital Native/ Carmel Productions]
______________________________________________________
Art Installations
Art Cars
270 Degrees of Visual Stimulation by VJ Krunch
Endless Laser Waves Installation
Led Hoop and Poi Performances
UV Reactive Bodypainting
* THEME & DRESS CODE:
This night will be dedicated to our favorite Super Heroes and Villains. Choose the hero you want to be, or invent one of your own!
Costume Ideas: Superman, The Joker, Batman, Robin, Cat Woman, The Avengers, Mr. Freeze, Hancock, Wolverine, Spiderman, Neo in The Matrix, Judge Dredd, Daredevil, Blade, Green Lantern, Ghost Rider, Elektra. Use your imagination... Creative attire encouraged!
This will help you decide which hero are you:
http://Thesuperheroquiz.com
ALSO, feel comfortable expressing yourself and dress up as if you were on the playa...
Share the love and invite your creative friends to this special, wondrous event!
______________________________________________________
I Feel... is a monthly creation by Carmel Productions. It is all about bringing high quality music, art, self expression, and magical vibes to the dance floor. Burners, artists, designers, and dancers come to escape the real world and enjoy I Feel's wondrous ambience and state of the art sound system, while sharing their love for global beats.
Tickets: https://undergroundheroes.eventbrite.com
* Address will appear on the ticket *
* Contact Carmel Producers on a private message for volunteer opportunities
+21 with ID
Follow us:
Carmel Producers Personal Profile:
www.facebook.com/CarmelProducers
Carmel Productions Fan Page:
www.Facebook.com/Carmelproductions
Photos:
www.facebook.com/CarmelProducers/photos_albums
Videos:
www.youtube.com/CarmelProductionsNYC
Sounds:
www.soundcloud.com/carmelproductions
* All Sales are Final *