I Don't Know How to Help: Caring for the Child Who Has Experienced Psycholo...
Actions and Detail Panel
I Don't Know How to Help: Caring for the Child Who Has Experienced Psycholo...
Sat, April 8, 2017, 9:00 AM – 11:00 AM EDT
Description

We interact and care for children who have experienced psychological and emotional trauma on a daily basis. These traumatic experiences can have a poor effect on their behavioral, social, academic, cognitive, and psychological functioning. Caregivers of children who've experienced trauma often have questions on how to best support the children in their care. This workshop will educate caregivers on the various type of trauma, its effects of child and adolescent development, and how to support the child who has experienced trauma.
After you attend this workshop you will be able to:

Describe the impact that traumatic experiences has on child and adolescent development

Describe children's responses to trauma

Identify supportive trauma-informed strategies used to parent children who've experience trauma

Identify methods to reduce caregiver distress associated with the aftermath of the traumatic event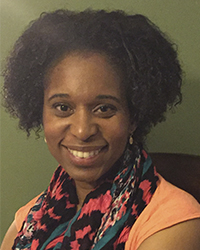 Presented by Milicia Tedder, PhD, LPA, who is a licensed psychological associate with over 10 years working with children, adolescents, women, and families. Dr. Tedder has experience working with individuals from a variety of ethnic, religious, and cultural backgrounds, dealing with a range of issues including anxiety, depression, and trauma and abuse. She is committed to accompanying people through their transitions toward positive emotional and spiritual health. Dr. Tedder's approach to therapy is integrative. She looks at the psychological, biological, social, and spiritual influences that affect an individual's thoughts, feelings, and actions. She finds the collaborative nature of client-therapist work to be one of the exciting facets about treatment.
She is a native of North Carolina and earned a master's degree in Psychology from North Carolina Central University and a doctoral degree in Child and Family Studies from the University of Tennessee Knoxville.