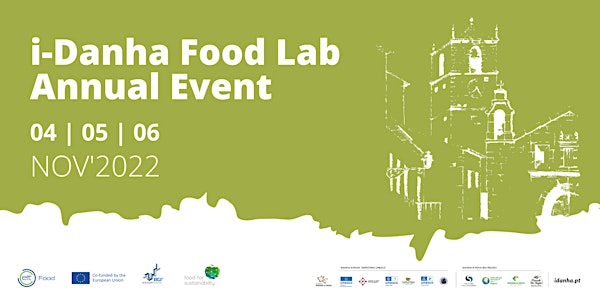 i-Danha Food Lab Annual Event 2022
The ultimate agrifood event is back in Monsanto, Idanha-a-Nova, to celebrate innovation in Portugal's agrifood sector!
When and where
Location
Monsanto Centro de Interpretação de Monsanto 6060-091 Monsanto Portugal
Refund Policy
Contact the organizer to request a refund.
Eventbrite's fee is nonrefundable.
About this event
i-Danha Food Lab Annual Event brings together agri-food stakeholders, all united in the willingness to accelerate the revolution in food, making it more sustainable to sustain our society and our planet.
Right after the world's biggest tech conference, Websummit, we will take agrifood innovation experts on a unique adventure to one of the oldest Roman villages in Portugal: Monsanto. This event will mark the show case different European projects, namely: EIT Food Grow Workshops, EIT Food HelpFood, Transfarmers, Biolog and EIT Food Post Harvest School.
At this 5th edition, participants will have the opportunity to take part in interactive sessions, explore networking opportunities with different stakeholders, discover EIT Food programmes and projects driving change in the food system, and explore new collaborations.
This event will be organised by BGI Food4Sustainability and Idanha-a-Nova City Hall as an occasion to showcase our work, build new connections, be inspired, discover and discuss new ways to bring change to food systems.
This year's edition will be sponsored by EIT Food, one of the innovation communities of the European Institute of Innovation and Technology (EIT), an EU body.
-----
A BGI convida-o/a para o Evento Anual do i-Danha Food Lab, dinamizado em conjunto com a Câmara Municipal de Idanha-a-Nova. O evento reúne investidores, empresas, startups e empreendedores que atuam na cadeia de valor agroalimentar, nomeadamente nas indústrias de CleanTech, FoodTech e AgriTech.
Este evento marca o fim de um ano de discussões sobre agricultura sustentável iniciadas pela BGI, pelo Food4Sustainability e pelo EIT Food, e terá lugar numa das aldeias romanas mais antigas de Portugal: Monsanto.
Além de experienciar a singularidade de Monsanto e Idanha-a-Nova, terá oportunidade de contactar com diferentes projetos europeus, nomeadamente: European Digital Innovation Hub (EDIH), TransFarmers, Biolog e iniciativas do EIT Food (Gow Workshops, HelpFood 4.0 e Post Harvest School).
Nesta 5.ª edição, os participantes terão a oportunidade de participar em sessões interativas, explorar oportunidades de networking com diferentes stakeholders, e descobrir programas do EIT Food que promovem mudanças no setor agroalimentar.
Este evento será organizado pela BGI, Food4Sustainability CoLAB e Câmara Municipal de Idanha-a-Nova. Será uma ocasião para dar a conhecer o nosso trabalho e estabelecer novas ligações, ao mesmo tempo que se inspira e debate/conhece novas formas de transformar os sistemas alimentares.
A edição deste ano contará com o apoio do EIT Food, uma das comunidades do Instituto Europeu de Inovação e Tecnologia, um órgão da União Europeia.
Agenda
04/11
13H00 - 17H30: Train leaves Lisboa Santa Apolónia station towards Monsanto / O comboio parte de Lisboa (Santa Apolónia) até Monsanto, Idanha-a-Nova
17H30 - 18H15: Opening Session: The importance of Historical Villages in the World / Sessão de abertura: a importância das aldeias históricas no mundo
18H15 - 18H45: i-Danha Food Lab meets EIT Food: Europe's results / i-Danha Food Lab e EIT Food: resultados da Europa
18H45 - 19H15: i-Danha Food Lab meets EIT Food: Portugal's results / i-Danha Food Lab e EIT Food: resultados de Portugal
19H15 -21H00: Networking Dinner / Jantar social
21H00: Travel to accommodation / Viagem até alojamentos
05/11
09H00 - 09H30: Registration & Welcome Coffee / Registos e café de boas-vindas
09H30 - 09H45: Master of Ceremony & Presentation of the Agenda / Mestre de Cerimónia e Apresentação da Agenda
09H45 - 10H15: Opening Key Note / Discurso de abertura
10H15 - 10H45: What will be the European agrifood sector in 2030? / Como será o setor agroalimentar europeu em 2030?
10H45 - 11H15: What will be the Portuguese agrifood sector in 2030? / Como será o setor agroalimentar português em 2030?
11H15 - 11H30: Coffee Break / Pausa para café
11H30 - 12H15: Parallel roundtables / Mesas-redondas paralelas
Case study presentation: from research to market / Caso de estudo: da investigação ao mercado
Farmers to farmers: novel approaches to the food system / De agricultores para agricultores: novas abordagens ao sistema alimentar
12H15 - 13H00: Parallel roundtables / Mesas-redondas paralelas
Commitment to action: Innovation as a driver to reformulate education / Do compromisso à ação: inovação como promotora de uma reforma educacional
The role of gastronomy in the transition to more sustainable food systems / O papel da gastronomia na transição para sistemas alimentares sustentáveis
13H00 - 14H00: Networking Lunch / Lanche social
14H00 - 14H45: Parallel roundtables / Mesas-redondas paralelas
How public entities can change consumption habits towards sustainable food systems
How sustainability is shapping the future of regions
14H45 - 15H30: Parallel roundtables / Mesas-redondas paralelas
One health: connections across soils, environment and humans
Sharing practices across borders powered by TransFarmers
15H30 - 16H00: Coffee Break / Pausa para café
16H00 - 17H30: Presentation of i-Dare challenge: Solving local problems through the audience / Apresentação do i-Dare challenge: resolução de problemas locais através da audiência
17H30 - 18H30: Presentation of PEPAC - Organic farming in the new Common Agricultural Policy / Apresentação da PEPAC - agricultura biológica na nova Política Agrícola Comum
18H30 - 19H00: BioLog Awards Ceremony Presentation / Cerimónia de entrega dos prémios BioLog
19H00 - 19H30: Closing Session / Sessão de encerramento
06/11
9H00 - 12H30: Field visits / Visitas de campo
12h30 - 15h30: Networking lunch / Almoço social
15h30: Train trip back to Lisbon Santa Apolónia / Viagem de regresso a Lisboa (Santa Apolónia)
Logistics' Information
i-Danha Food Lab's attendance is completely free.
However, should you wish to benefit from transport (from Lisbon to the venue and back) or from our catering services during the entire event, we advise you to purchase one of our ticket options!
Early-bird fees will be in-place until October 23rd.
-----
Informação sobre logística
A participação no i-Danha Food Lab é totalmente gratuita.
No entanto, caso deseje beneficiar dos nossos serviços de transporte (ida e volta para o evento desde Lisboa) ou catering (durante todo o evento), convidamo-lo/a a adquirir um ou mais dos nossos bilhetes!
As tarifas "early-bird" estarão em vigor até dia 23 de outubro.