Actions and Detail Panel
I AM Unstoppable: Fix My Life Conference
Thu, Jan 26, 2017, 7:00 AM – Fri, Jan 27, 2017, 10:00 PM EST
Description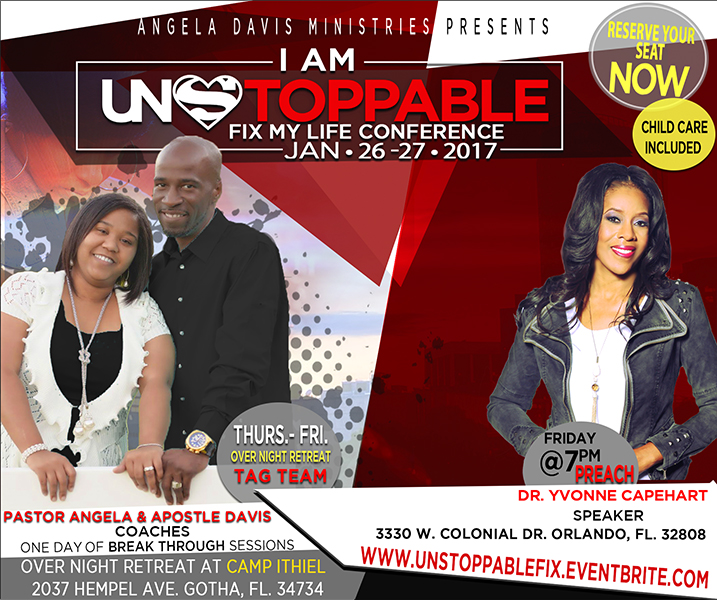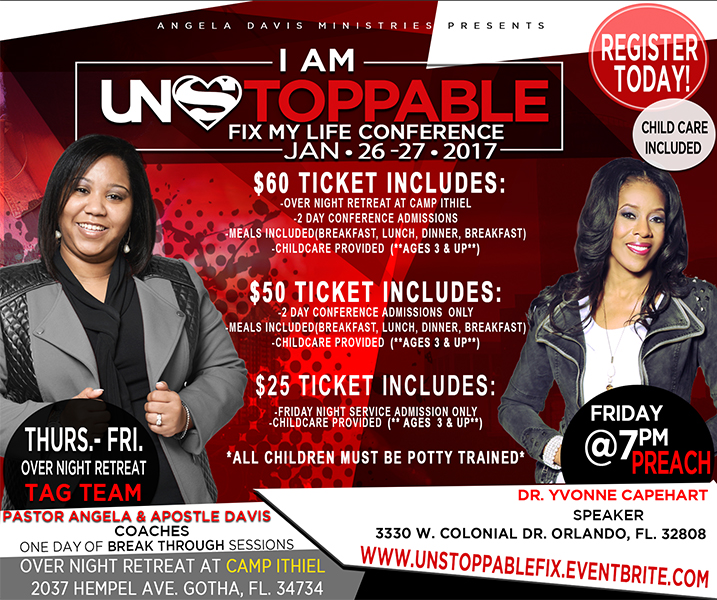 ARE YOU READY TO FIX THE BROKEN PIECES OF YOUR LIFE THAT ARE PREVENTING YOU FROM BEING UNSTOPPABLE? ARE THERE AREAS IN YOUR LIFE WHERE YOU ARE EXPERIENCING A LACK OF POWER, A LACK OF FREEDOM OR A LACK OF EXPRESSION? COME GET YOUR BREAKTHROUGH ! LET US HELP YOU FIX YOUR LIFE!!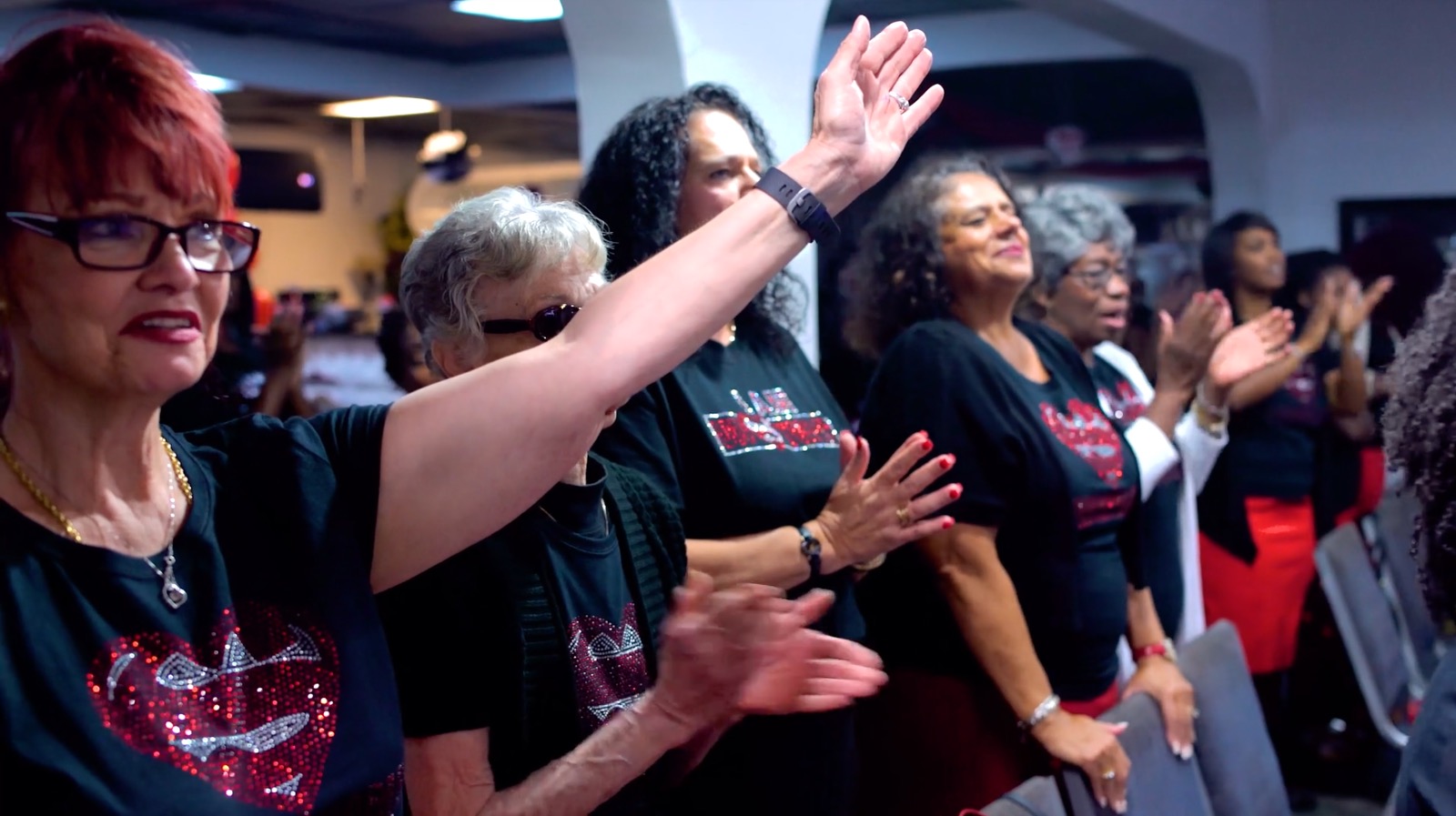 Angela Davis Ministries presents I AM Unstoppable: Fix My Life Conference. This is the 3rd annual year that we have hosted the Fix My Life Conference. Get ready for your Unstoppable FIX. This conference was designed to deal with every area of your life by giving strategies on how to fix the broken pieces of your life by becoming UNSTOPPABLE. Through in-depth breakthrough sessions, you will be given the tools necessary to overcome any area of your life. Not only will you be taught how to apply these strategies, but your very own breakthrough coaches, Pastor Angela Davis and Apostle Davis will give many of you the opportunity to walk through your breakthrough moment. We have coached thousands of people through their breakthrough moment whether it was their PAST, PRESENT OR FUTURE right before our very eyes.
THE PAST IS UNCOVERED, THE TRUTH IS REVEALED AND EMOTIONS RELEASED.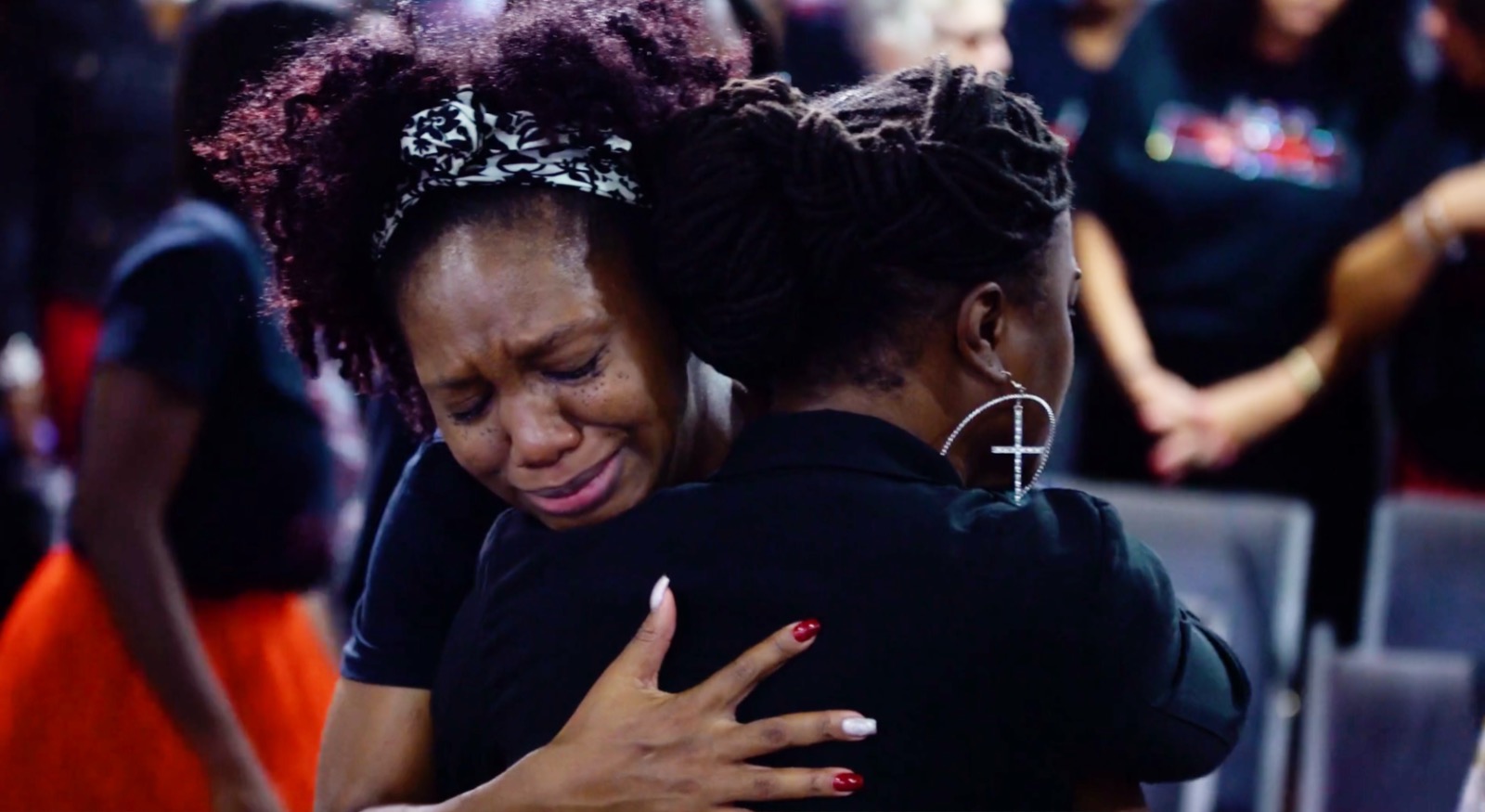 Non-stop breakthrough! Thursday, January 26th - Friday, January 27th, 2017. Enjoy a beautiful overnight retreat at Camp Ithiel. Registration opens at 7:45 am on Thursday, January 26th. The conference starts promptly at 9:00 am on January 26th. We check out at noon on Friday, January 27th.
On Friday night at 7pm, we will resume back to a different location at 3330 W. Colonial Dr. Orlando, FL. 32808 (City Of Life Ministries). On Friday night, our guest singer will first lead us into praise and worship, then we welcome our international keynote speaker, Dr. Yvonne Capehart, who has a word in her belly just for you!


Reserve your seat today!!!!
$60 ticket includes:
-Overnight Retreat at Camp Ithiel
-2 Day Conference admissions
-meals included (Breakfast, Lunch, Dinner, Breakfast)
-childcare provided (**Ages 3 & up**)
$50 ticket includes:
-2 Day Conference admissions ONLY
-meals included (Breakfast, Lunch, Dinner, Breakfast)
-childcare provided (**Ages 3 & up**)
$25 ticket includes:
-Friday Night Service Admission Only
-No Meals Served
-childcare provided (** Ages 3 & up**)
**ALL CHILDREN MUST BE POTTY TRAINED**
This is a picture where we will lodge in the camp dorms: so bring your bed linen, pillow, towels, or sleeping bags.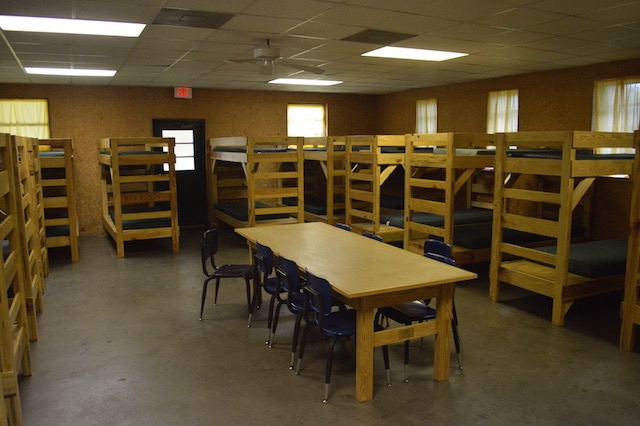 Where else in the world, can you go for a 2-day conference that includes all of your meals and bed for $60? Noooooo where!
Not only that, but if you purchase your ticket by December 31st you will be able to get the Early Bird Special! Buy 1, Get 1 1/2 OFF (of equal value ticket). CALL TO CLAIM YOUR HALF OFF TICKET.
DON'T COME ALONE....BRING YOUR FRIENDS, CO-WORKERS, FAMILY, CHURCH MEMBERS AND ALL!!!! SIGN-UP AS A GROUP....... Churches and/or organizations inquiring of group rates contact event organizer.
FAQ'S
1. Do I need to bring anything to lodge?
YOU MUST BRING LINENS FOR YOUR BED, A PILLOW, TOWEL FOR SHOWER, SOAP OR SLEEPING BAGS.
YOU MUST PROVIDE YOUR CHILD WITH LINEN, A PILLOW OR SLEEPING BAG.
2. Will there be conference T-shirts available for purchase?
Yes, Tees and Thingz, Inc. is our t-shirt vendor this year. I AM UNSTOPPABLE T-SHIRTS will be sold on the day of the conference. We highly recommend that you pre-order your size t-shirt to avoid the wait. Pre-order by emailing your size and contact information to : teesandthingz@gmail.com
3. What is the attire for both days of the conference?
First Day, dress up in business casual attire in any combination of the colors of red / black/ white.
Second Day, Lets be in unity by wearing our unstoppable t-shirt with red skirts.
( *If you don't purchase from vendor, please wear a black shirt* ) .
4. Are there vendor opportunities?
Yes, vendor spaces are available at affordable rates. Please inquire by email, by submitting your product or service information that you would like to provide at the conference.
5. Is my registration/ticket transferrable?
Yes, you can transfer to another person, but no refunds will be issued.
6. Where can I contact the organizer with any questions?
Ask to speak with the secretary of Angela Davis Ministries at (407) 558-5193.
7. Can I update my registration information?
Yes you can update your information.