Sales Have Ended
Ticket sales have ended
THANK YOU FOR THE SUCCESS OF "I AM." WE ARE SO STOKED TICKETS ARE SOLD OUT, PLEASE STAY TUNED TO FUTURE EVENTS ON OUR INSTAGRAM PAGE: INSIDETHEHEART OR I_AM_06.2018
Sales Have Ended
Ticket sales have ended
THANK YOU FOR THE SUCCESS OF "I AM." WE ARE SO STOKED TICKETS ARE SOLD OUT, PLEASE STAY TUNED TO FUTURE EVENTS ON OUR INSTAGRAM PAGE: INSIDETHEHEART OR I_AM_06.2018
Description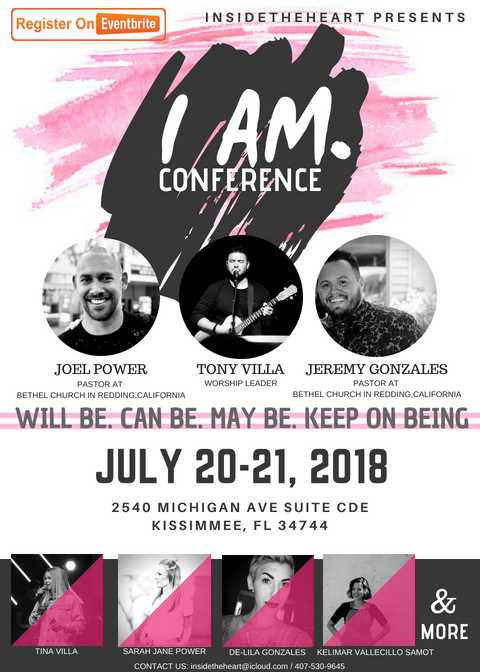 I AM.
WILL BE. CAN BE. MAY BE. KEEP ON BEING.
_________________________________________
EMPOWERMENT. IDENTITY. PURPOSE.
"WHO AM I?" IS FOLLOWED BY THE ANSWER "I AM." WHAT WE PUT AFTER THOSE TWO WORDS SHAPE OUR IDENTITY, SELF VALUE, AND BELIEF. NO MATTER THE AGE WE HAVE ALL STRUGGLED WITH KNOWING WHO WE ARE. JOIN US IN THIS TWO DAY CONFERENCE TO HELP SHAPE OUR IDENTITY AND WHO GOD CREATED US TO BE.
Speakers (Conference will be Bilingual, English and Spanish)

Jeremy Gonzalez- From Stockton, California Jeremy has a passion for people and embracing who God created them to be. A first year Pastor at Bethel School of Supernatural Ministry in Redding, California Jeremy has experience working with people of all ages and partnering with God to bring healing to the broken and hurting. This is just a snippet of Jeremy's life, you do not want to miss his story of redemption, love, grace, and triumph.
Tina Villa- A woman full of passion, fire, love, and spunk; Tina is the wife of Tony Villa and mother of two beautiful daughters. Tina cares for the heart of others making everyone feel seen and special. She has a voice of power and grace that brings the presence of God whenever she speaks.
Tony Villa- Tony has been leading worship since he was nineteen years old at Alburque, New Mexico. Tony's parents were saved when he was six years old and has been raised in the church, but, by his choice got saved at the age of fifteen. Tony is the leader of Bethel School of Supernatural Ministry Worship for team one and has a passion for adoration and the heart of God.
Kelimar Vallecillo- Originally from Puerto Rico I moved to Florida at the age of six and gave my life to Christ at the age of 16. I have a passion for writing, teaching, helping churches, leaders and Pastors. I love to form a base of grace, love, compassion, and encouragement for all generations wherever I go.
Joel Power- Originally from Australia, Joel moved to Redding, California to be part of Bethel School of Supernatural Ministry as a first year Pastor. Joel is full of love, grace, power, and a passion to see a world on fire for Jesus.
Sarah Jane Power- Sarah-Jane is a singer, songwriter, currently based in Northern California, USA. Sarah-Jane has worked closely with her producer on her debut album. Her single "Run To You," is a duet with Chardon Lewis. Sarah Jane is sweet, devoted, and full of boldness for God.
FRIDAY 07/20/2018
SCHEDULE
5:00 PM: DOORS OPEN CHECK IN & SPECIAL BOOTHS

6:00 PM: CONFERENCE BEGINS

6:10 PM: WORSHIP

7:00 PM: INTRODUCTIONS, PROPHETIC WORDS & WORDS OF KNOWLEDGE

7:45 PM: SPEAKER #1- JEREMY GONZALES TOPIC: WILL BE
9:30 PM: DAY ONE OF CONFERENCE FINISHED
SATURDAY 07/21/2018
8 AM DOORS OPEN, MEET AND GREET

8:30 AM WORSHIP BEGINS

9:30 AM SPEAKER #2 JOEL POWER TOPIC: CAN BE

11:00 AM BREAKOUT SESSIONS

TINA VILLA

LILLIANIS CRUZ: Professional Counselor Speaking On Mental Health

BAILEY DOTY: Reading, Interpreting, Understanding, Applying the Bible

12:00 PM LUNCH

1:00 PM SPEAKER #3 KELIMAR TOPIC: MAY BE

2:00 PM BREAKOUT SESSIONS

CARLOS GONZALEZ: Financial Consultant Speaking On The Importance of Money and Management

SARAH JANE POWER

RACHEL ASBURY: Identity & Creation


TONY AND TINA VILLA: Purity, Sex, Relationships, Dating, & Marriage.

3:00 PM BREAK

3:20 PM Q&A

4:30 PM WORSHIP

5:20 PM SPEAKER #4 JEREMY TOPIC: KEEP ON BEING

6:30 PM CLOSING

7:00 PM CONFERENCE FINISHED