"I Am" Teen Writing Workshops: Narrating the Voices in Africa's Arts
The "I Am" teen summer writing workshop centers on inclusive leadership and social responsibility while studying works of African art.
About this event
Please note: Once you have registered for this event, a Zoom link will be sent to you to attend.
Following the popularity of African American poet and activist Amanda Gorman, spoken word and poetry has gained more popularity and relevance in the United States and globally. These workshops will explore major themes in four different NMAfA exhibits. In these writing workshops, a small group of teens ages 14-18 will meet virtually once a week for 4 sessions to discover their writing voices through fun and playful writing exercises involving collaborative art. This a summer teen writing series where each workshop is different and will focus on a different NMAfA exhibition. Each workshop will dive into new forms of writing, including poetry, fiction, fan fiction, lists, rants, letters, memoir, and more all within the use of comparative writing. The workshop is limited to 40 students. Teens may register for one workshop or for all four workshops. We'll explore putting our thoughts into words in new and different ways that are exhilarating, honest, encouraging, relevant and enjoyable. Ages 14-18
June 29th-I Am… Contemporary Women Artists of Africa "Vital Contributions." Women artists from Africa have given identity, individualism, authority and a voice through their art owning their own strength. Teen poets will have an opportunity to view the exhibit "I Am" and develop their own voice through writing exercises.
July 6th-Caravans of Gold, Fragments in Time: Art, Culture, and Exchange across Medieval Saharan Africa "Whispers of the Past" Fragments from the past formulate stories that help us understand the past and present. Teen writers will analyze the past artifacts and works of art from West Africa to understand their present voice and identity through writing prose and poetry.
July 27th-Currents: Water in African Art "Ebb and Flow" Africans and water have a very unique relationship. Their relationship involves the dynamics of struggle, life, death and resurrection. Teens will look at works of art in the Currents exhibit to write and to understand the complexities and interconnections between Africans and water.
August 10th - Heroes: Principles of African Greatness "The Hero Within" Everyone is a hero but not everyone sees themselves as a hero. Teens will have the opportunity to view, discuss and write about works of art in the Heroes exhibit that identify with heroism and strength in individuality.
Aida Muluneh
b. 1974, Ethiopia
Works in Addis Ababa, Ethiopia
Sai Mado (The Distant Gaze)
2016
Digital photograph
Museum purchase, 2016-16-2
Visualizing memories. Aida Muluneh explores the links and ruptures between generations, as well as the imperfections and disconnects that shape personal and national experience. She says, "As women, especially as African women, we forget—and the world forgets—our positioning in history and religion and culture." This work is inspired by the Amharic saying, Temetaleh beye, Sai Madi, Sai Mado, ye liinete eyene mouma ende beredo (As I waited for you in a distant gaze, my eyes melted like ice awaiting your return). For Muluneh, the cloud sky symbolizes the uncertainty of relationships, while the image behind the broken glass looks to a past made present through memories.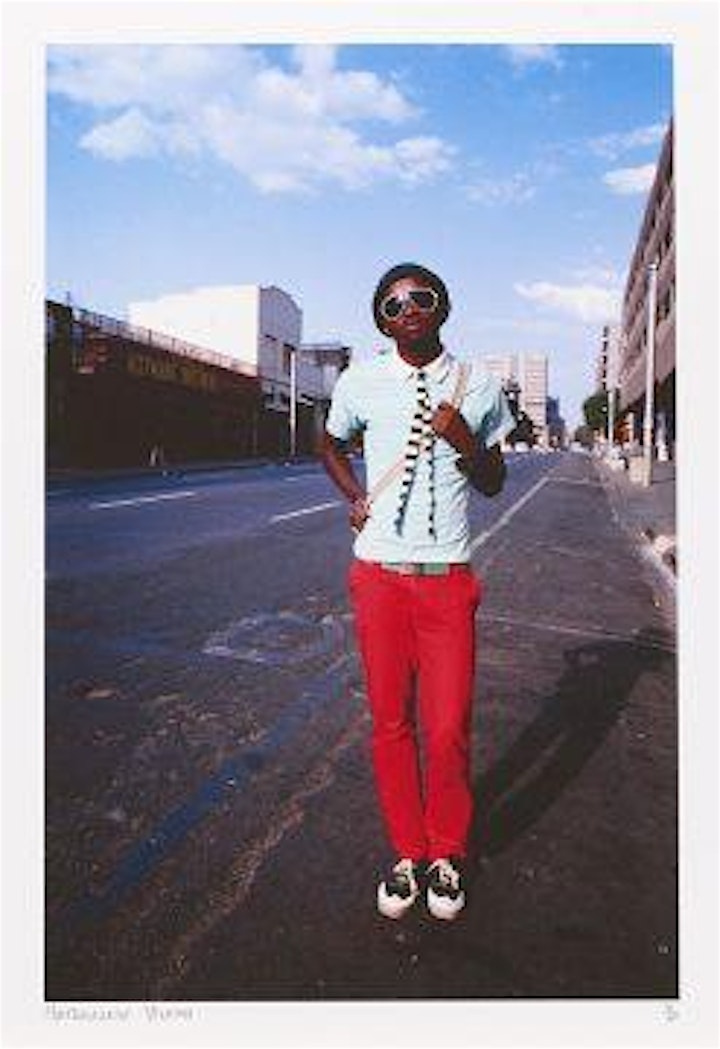 Organizer of "I Am" Teen Writing Workshops: Narrating the Voices in Africa's Arts