MIAMI CARNIVAL FRIDAY NIGHT - I AM SOCA ARMY FETE
About this event
I AM SOCA "Army Fete"
Miami Carnival Friday Night - 8 Oct
The Soca Army Base. Miami FL
Join The Soca Army
Report for duty Oct 8 @ 7pm
MISSIONS WILL BE ORDERED BY:
Commanders On Duty:
• Riggo Suave
• I'ntl Stephen
• Custodian I'ntl
• Elegance Sounds
• Sounds 4 Life
• Freeze Intl
• Jason Benn
Generals On Duty:
• Lyrikal
• Hypa Sounds
• Special Guest
Enlist NOW!
What are the qualifications to join the Soca Army?
You must be a Soca Lover
You must be 21 & Older 
You must have a Wining School diploma.
You must follow dress code: Army/Military Attire
You must be familiar with Soca Music from all islands
You must complete missions ordered by Soca Army Commanders & Generals.
Follow Us On Instagram & Facebook: @IAmSocaEvent
"An Experience Like No Other"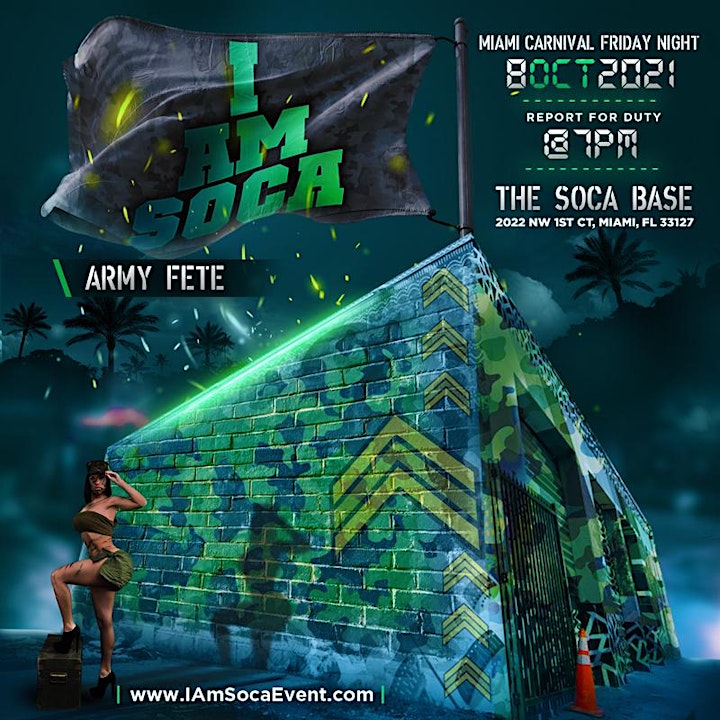 Organizer of I AM SOCA - ARMY FETE