Description
Wednesday, March 27th bid farewell with a celebration of Womxn through Music from 6pm - 9pm at the Weeksville Heritage Center. Guests will on what it means to embrace the full spectrum of the divine Black feminine archetypes in the 21st century.You are invited to celebrate the closing of I AM SHE before the exhibition goes to Imani Shanklin Roberts' hometown in Washington, D.C.
Upon arrival Tru Viiolet will conduct the soundtrack, while guests enjoy complimentary cocktails and small bites, before a conversation on navigating the themes divine feminity explored in the exhibition. Following the discussion attendees will be serenaded by Shyvonne, fresh off the release of her EP, "Back to the Beach" before saying farewell with vibes curated by Cam Wink.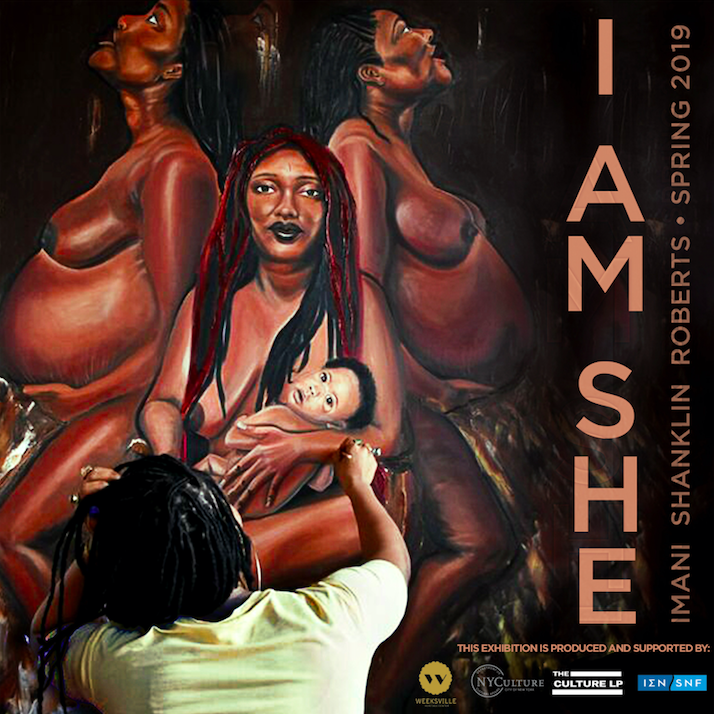 MORE ABOUT "I AM SHE":
This spring 2019 Imani Shanklin Roberts unveils I AM SHE, a collection of works inspired by her recent journey away from art making and a deeper delve into self discovery. Opening March 2nd, 2019 at the Weeksville Heritage Center, viewers will not only see, but experience the artist's expression of holistic femininity through portrait works and connected charging stations, designed in partnership with set designer Alicia DeLarge.
Stepping into motherhood encouraged Roberts to confront the identities that she holds true. Rearing a daughter required extreme investigation of identities and an analysis of what it truly means to be female, to be black and to be human in the 21st century.
This exhibition, preview, opening reception, and closing artist talk are curated and produced by The Culture LP, in partnership with Weeksville Heritage Center, the Stavros Niarchos Foundation, and NYC Department of Cultural Affairs.