I AM NOT YOUR NEGRO | Atlanta Screening
Date and time
Monday, January 23, 2017 · 7 - 10pm EST
Location
Morehouse College Bank of America Auditorium 363 WELLBORN STREET SW (Located inside the Shirley A. Massey Executive Conference Center) Atlanta, GA 30310
Description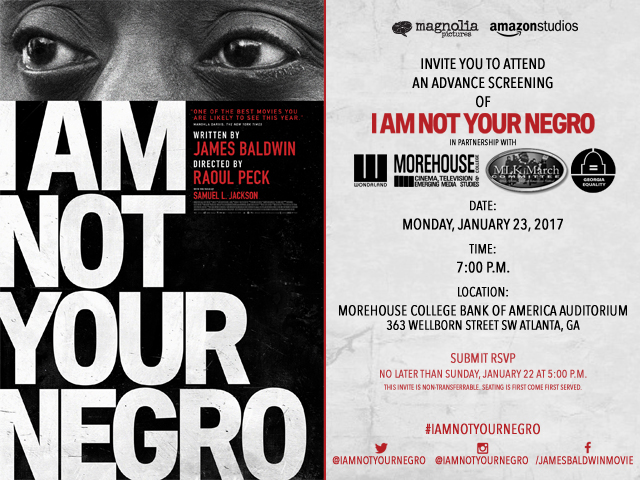 In 1979, James Baldwin wrote a letter to his literary agent describing his next project, Remember This House. The book was to be a revolutionary, personal account of the lives and successive assassinations of three of his close friends—Medgar Evers, Malcolm X and Martin Luther King, Jr.
At the time of Baldwin's death in 1987, he left behind only thirty completed pages of this manuscript.
Now, in his incendiary new documentary, master filmmaker Raoul Peck envisions the book James Baldwin never finished. The result is a radical, up-to-the-minute examination of race in America, using Baldwin's original words and flood of rich archival material. I Am Not Your Negro is a journey into black history that connects the past of the Civil Rights movement to the present of #BlackLivesMatter. It is a film that questions black representation in Hollywood and beyond. And, ultimately, by confronting the deeper connections between the lives and assassination of these three leaders, Baldwin and Peck have produced a work that challenges the very definition of what America stands for.
Directed by: Raoul Peck
About the organizer
LIQUID SOUL is a total market agency for the Sports & Entertainment Industry.
We provide clients with superior integrated marketing, publicity, digital and social media services, centered around consumer lifestyle touch points that reach them where they work, live and play. Since 2005, LIQUID SOUL has dominated a unique niche category of services in which sports, entertainment and other consumer brands have come to leverage time and time again.
At LIQUID SOUL, we service clients with 100% dedication towards quality customer service, superior performance, metrics and best-in-class, go-to-market campaigns.