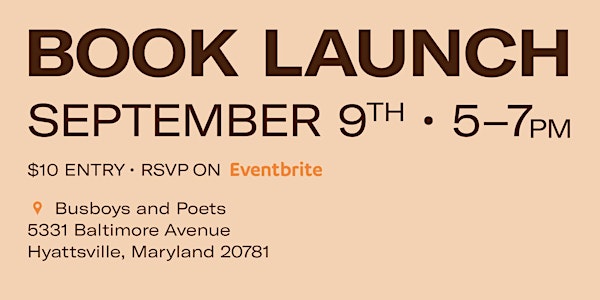 "I Am More Than My Hair" Book Launch
When and where
Location
Busboys and Poets 5331 Baltimore Avenue Hyattsville, Maryland 20781
Description
From the time we are young, girls are pressured into a set belief of beauty standards. Hair is certainly high on the list and is often labeled as our "crown and glory." Where does this notion fit for females with alopecia (the partial or complete absence of hair from areas of the body where it normally grows; baldness)?
AC Media will host a Book Launch Party on Sunday, September 9, 2018 from 5-7PM at Busboys and Poets (Zinn Room) in Hyattsville, MD. The second book by Alyscia Cunningham, I Am More Than My Hair: My Outward Appearance Does Not Define Me, is an insightful look into the stories of females who've experienced hair loss or have cut their hair in solidarity of a loved one.
Join Alyscia Cunningham, author, filmmaker and photographer, for an inside look behind the story of her 2-part project, I Am More Than My Hair, book and film. She will present her research and passion behind her project along with a panel. Meet the women who participated, hear about the medical aspect of alopecia, from Dermatologist Dr. St. Surin, and join in on the discussion of redefining beauty standards. Q&A and Book Signing to follow.
Proceeds from ticket sales will go towards finishing funds for Cunningham's documentary film. If you're unable to attend but would like to support Alyscia's project, please consider making a tax-deductible donation via Docs In Progress. You can purchase a copy of the book on Amazon. 10% of sale proceeds will be donated to Children's Alopecia Project (CAP).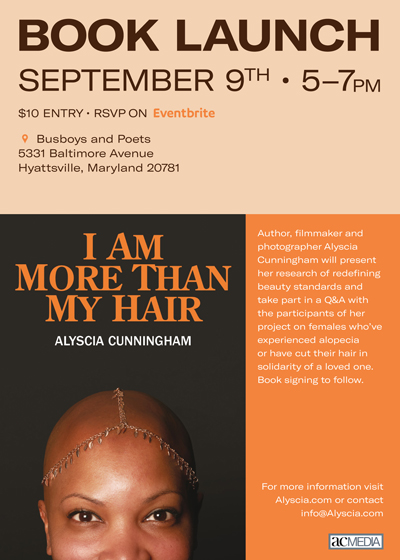 Sunday, September 9, 2018
5-7PM
Busboys and Poets (Zinn Room)
5311 Baltimore Avenue
Hyattsville, MD 20781
This is a seated venue in a restaurant (private area). Orders for food and drinks (alcoholic and non-alcoholic) can be placed but not required. To learn more about Alyscia and her work, visit her website www.Alyscia.com.
In September 2018 (date TBD) there will be the launch of I Am More Than My Hair, the documentary film that features interviews with six females who've experienced alopecia and the connection of their emotions to the media's standards of beauty.
Thanks for our supporters!