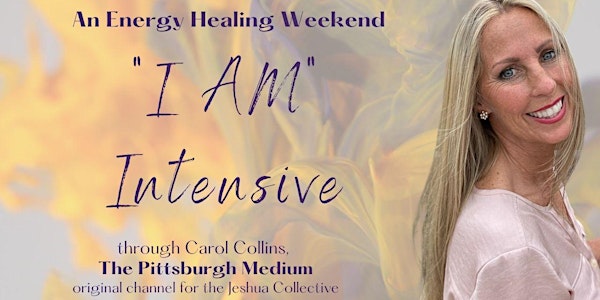 I AM Intensive - Channeled 3 Day Retreat - Port Douglas, Australia
Remove Unconscious Beliefs Through Chakra Attunements with the Jeshua Collective All Weekend - LIVE EVENT
When and where
Location
Niramaya Spa and Resort 1 Bale Drive Port Douglas, QLD 4877 Australia
Refund Policy
Contact the organizer to request a refund.
Eventbrite's fee is nonrefundable.
About this event
I AM is an extraordinary experience in self-discovery, self-evaluation, self-confidence improvement, and conflict resolution with your inner self to not only explore who you are now but who you were meant to be. Along the way, Jeshua will identify and describe your intuitive gifts while resetting your ability to manifest your life "On Purpose" in general.
For an entire weekend you will be immersed in guidance on who Source Beings are, who we are as human being having a physical life experience and amazing explanations of how life experience has shaped who you have become and clarity is given on what is being done during the retreat to clear unhealthy beliefs from your life's experience. These beliefs are stored in the Root Chakra and this is the primary focus of the weekend's healing activities. Your Higher Self had a purpose for creating the life you are living and the I AM Retreat is loving attention from that Being to "clean out the pipes" to help you along the path of your life's Intentions.
The weekend is meant to be impactful. It is immersive. It is fun. It is filled with self-discovery.
There will be shifts, there will be eye opening conversations that will lead you to profound change. There is one goal - manifestation of your true self to strengthen, or open you up to, receiving connection and communication from your Higher Self to guide you along your life's path - what Jeshua calls your life's Intentions. To get there, you will explore where you are in the "here and now" as well as what your Intentions were for this life and where you are on your journey of exploring those ideas, situations, and relationships. You will learn how the chakras create or "hold" your Intentions and how to reset your energy to be in alignment with them. You will engage in conversation about limiting beliefs and how they are affecting your ability to receive.
Travel Information: The intensive begins 9am Friday morning and closing segment is at 4pm on Sunday.
​I AM Intensive cost:
Single Occupancy - Private room/bath: $2300
Single Occupancy - Private suite/luxury bath: $2600
Double Occupancy - Private room/bath: $3050
Double Occupancy - Private suite/luxury bath: $3350
NOTE: no non-participants will be accepted for registration
Transportation to/from the Intensive is not included. Late arrivals and/or early departures are not encouraged.
$500 non-refundable deposit must be made at time of registration. Balance is due 30-days before the Intensive.
Register early as we always sell out.
___________________________________________________________________
Carol Collins is The Pittsburgh Medium and a consciously-aware trance channel. She likes to say she is the conduit for guidance from Source. Through her, a collective of non-physical Beings who asked to be called Jeshua teach how to live your best life, how the world works, self-healing, and how to channel. They offer their guidance daily through private readings or through group gatherings and biweekly online Our Knowing workshops. See links below for more information and to schedule a private or group session.
____________________________________________________________________
Unfoldment Into Channeling / Intuitive Development Classes
The Art of Self-Healing Classes
Channeled Readings and Chakra Cleansing appointments
The Powerfulness of Source Energy 2-day Workshops
FB @the.pittsburgh.medium
IG @the.pittsburgh.medium
TT @the_pittsburgh_medium
YT The Pittsburgh Medium