Description
I AM HIP HOP Dance Convention is a 2-day hip-hop dance workshop located in Richmond, VA. Dancers will receive 6 hours of training by world renowned choreographers + Q&A panel + opportunity to participate in a freestyle battle + opportunity to participate in a showcase.
Recommended for intermediate/advanced dancers ages 11 and up. || Pre-registration is required. || For more event details visit: www.iamhiphopdance.com || Brought to you by Richmond Urban Dance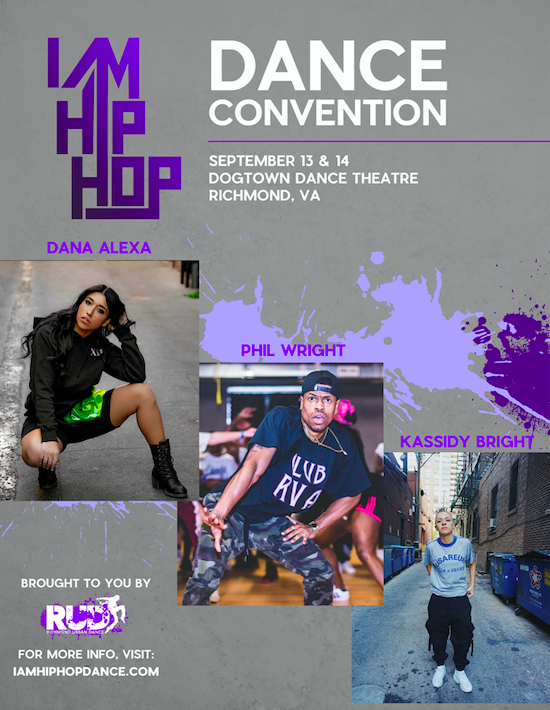 Choreographers
Dana Alexa
Dana Alexa is a professional dancer and choreographer from Brooklyn, NY currently living and working in Los Angeles. Dana now has a permanent teaching slot at Millennium Dance Complex and travels the world teaching master classes.

Dana toured with recording artist Kat Deluna where she choreograped, danced and lead as tour artistic director. She also danced with the NYC Knicks City Dancers, and won season 28 of CBS's The Amazing Race in May 2016.

She has choreographed numerous viral youtube videos and partnered with artists like Spencer Ludwig, Jason Derulo, Fergie, and Matt Steffanina. Most recently, Dana has worked in a national 2019 Super Bowl commercial for Expensify and in a music videos for 2 Chainz.
Kassidy Bright
Kassidy Bright is originally from Hawaii and currently lives in LA. She works on the Monsters of Hip Hop faculty, where RUD first met her last February and fell in love with her dance style.

Kassidy has a passion for teaching dance to students with special needs and started a special needs class for Monsters of Hip Hop.

Kass has been a featured dancer for Mindless Behavior, Kelly Clarkson, the Jonas Brothers, Alyxx Dione, PDiddy, The Dallas Cowboy Cheerleaders and Drake for a Super Bowl party. She teaches at Millennium Dance Complex in LA and is featured in the most recent All Birds National TV commercial.
Phil Wright
Phil Wright is a world renowned teacher and choreographer from Florida, currently living in LA.

He has worked with some of today's top artists including Cardi B, Nicki Minaj, Will Smith, Chayanne, MC HAMMER, G Eazy, and TLC. Currently Phil is a faculty member for NUVO dance convention.

In 2018 he created and founded The Parent Jam™ to bring families together through encouragement and positivity.

Phil prides himself on his ability to motivate and inspire others through dance and public speaking, which is why we have had Phil to Richmond before and are thrilled to have him back!