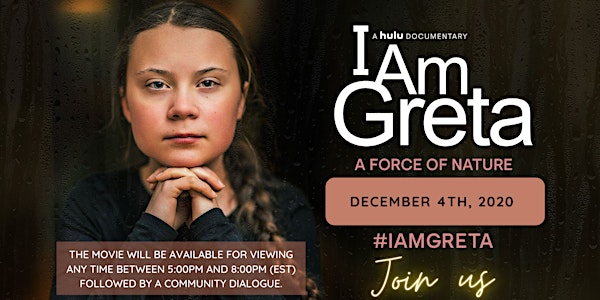 I AM GRETA Film Screening and Dialogue with the Vermont Youth Lobby
The movie will be avalilable for viewing between 5-8 PM (EST) on December 4th. Youth Lobby members will lead a community dialogue at 8 PM.
About this event
We are excited to announce a special virtual event that we are hosting: an online screening and conversation of the new film I AM GRETA.
The story of a teenage climate activist Greta Thunberg is told through compelling never-before-seen footage and this intimate documentary from Swedish director Nathan Grassman. Starting with her one-person school strike for climate action outside the Swedish Parliament, Grossman's follows Greta-- a shy student with Asperger's-- in her rise to prominence and her galvanizing global impact as she sparks school strikes around the world. The film culminates with her extraordinary wind-powered voyage across the Atlantic Ocean to speak at the UN Climate Action Summit in New York City. Today, her #FridaysForFuture movement has organized climate strikes on every continent except Antarctica. She tells the UN, "The world is waking up, the changes coming whether you like it or not."
On December 4th, between 5:00 and 8:00 PM (EST) we will be hosting a virtual screening of I AM GRETA, followed by an online conversation at 8:00 PM where we all discuss the film and talk about some concrete things Vermont youth can do to have a bigger impact
Please RSVP here.
We hope to see you there!
RESERVE TICKETS TO ACCESS LINKS. (the links will be sent to you at 5:00pm.)